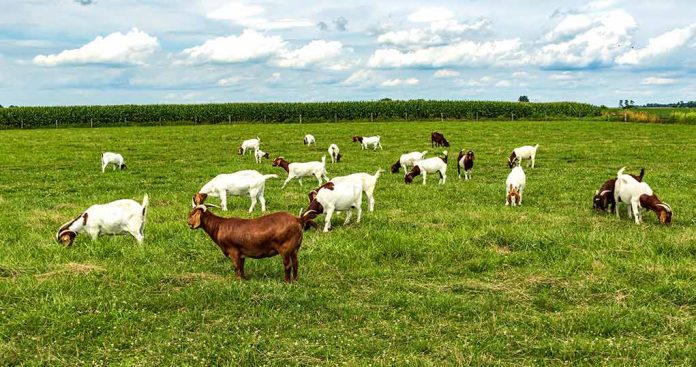 (StraightNews.org) – An absolutely stunning and horrific act of animal cruelty is making headlines out of Darlington, Wisconsin. Kyle and Stephanie Lincicum are now each charged with over 20 counts of animal cruelty relating to the deaths of just under 200 goats.
The goats died from starvation as the couple did not provide any water or food for months. They are also charged with theft and mishandling carcasses. The horrors were reported to the Farm Service Agency after the Lincicums made an arrangement with the owner of farm property to take over the farm and potentially buy it in the future.
Responding to the complaint, the Lafayette County Sheriff's Office found only two living goats on the land which sadly had to be euthanized as they were so malnourished. A local veterinarian described the animals as not having "a single ounce" of fat on the bodies. Sheriff Reg Gill told local media that they tracked feed companies and other similar businesses and discovered "it had been quite some time" since the poor starved animals had eaten. The veterinarian who surveyed the scene said there were no signs of any flowing water on the property.
The charged couple says they arranged parasite, worm and pneumonia treatments for the goats a few years prior but the goats continued to die. The veterinarian said it is possible for several goats to die this way but not this many. The Lincicums also stand accused of illegally selling 260 of the goats which they did not technically own for profit in the amount of more than $37,000.
They spent this money on personal items and did not invest any into the farm; they could face imprisonment if convicted. Sheriff Gill describes a scene like this as extremely rare for him, a sight where people just left the animals "to starve to death." He further said it was "devastating" to see how the animals must have suffered.
Copyright 2023, StraightNews.org