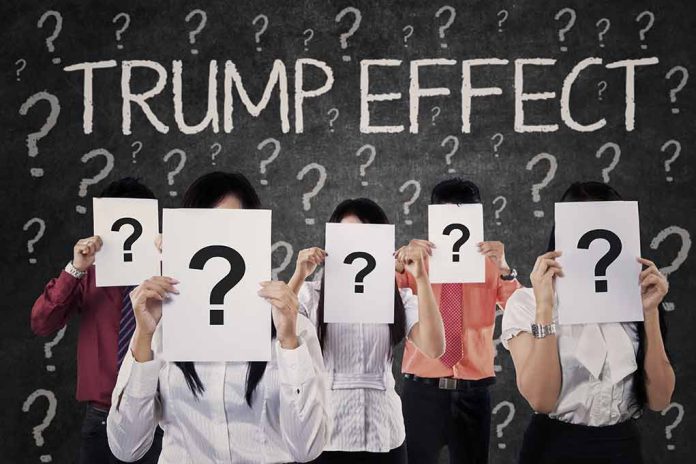 (StraightNews.org) – A Quinnipiac poll conducted immediately after former President Trump pleaded not guilty to 37 criminal counts in Miami found that 62% of Americans believe the charges are politically motivated. Only 34% are convinced that the law of the land is the reason for the indictment.
The figures are further broken down to show that 91% of Republicans agree with Trump that he is subject to a political witch hunt along with 28% of Democrats. Among independents, the percentage who believe the charges are political is 65%.
Divided along gender lines, 64% of men agree with President Trump, and 59% of women. Among various age groups, it is surprising to discover that younger people are more likely to concur with the former President. From age 18 to 24, 67% think the charges are political, compared to 53% of those aged 65 or older.
Racial groups showed a fairly similar result. The figure for whites is 59%, compared to 67% for Hispanics and 52% for blacks.
Trump's popularity has largely been unaffected by his historic appearances in the criminal courts. He was first indicted by Manhattan District Attorney Alvin Bragg in late March on charges related to a hush money payment to adult actress Stormy Daniels, in exchange for her silence about an alleged affair with Mr. Trump – a claim he denies. The former President's popularity grew in the wake of his appearance in the Manhattan court. In an ABC/Ipsos poll immediately afterward, his support had increased by 6% on the previous month.
Following his second indictment, little had changed. He was polling around 50% among Republican primary voters in March and April, and in the wake of his second court appearance in Miami, results showed him sailing steadily at around 50 to 55%. He continues to command a convincing lead over Ron DeSantis, whose numbers did not rise as expected after he formally announced his candidacy. Trump maintains a lead of between 25 and 30% over the Floridian Governor.
Copyright 2023, StraightNews.org