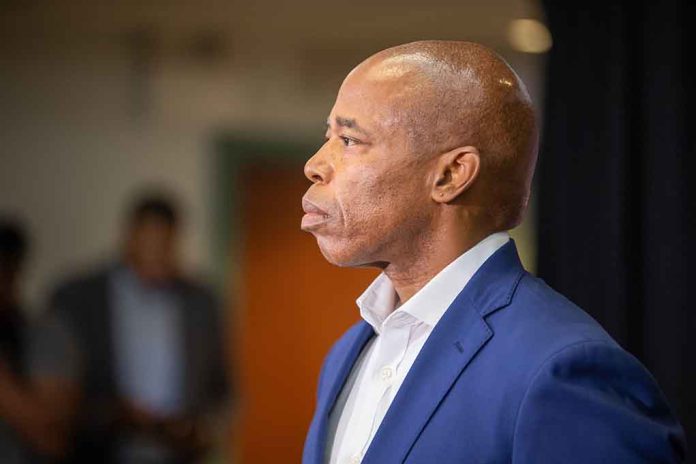 (StraightNews.org) — President Biden's election campaign has withdrawn Eric Adams from its advisory board. The New York City Mayor was named as a board member in March but has since been removed. Commentators believe the snub is related to Adams' criticism of the White House on immigration.
Eric Adams has been an advocate for open borders throughout his political career. New York is a "sanctuary city," which means it is open to migrants, and local authorities will not cooperate with federal immigration agencies. As a result of its sanctuary status, Texas Governor Greg Abbott began bussing border crossers to the Big Apple last year, and tens of thousands have arrived in the city since the start of 2022.
The vast influx prompted Eric Adams to declare that his city was being "destroyed" and did not have the resources to cope with the numbers arriving. He called for extra federal funding to address the crisis and has applied for more than $650 million.
Lashing out at Congress and the government, Adams said, "It is the irresponsibility of the Republican Party in Washington for refusing to do real immigration reform, and it's the irresponsibility of the White House for not addressing this problem."
The Mayor, however, continues to legislate in favor of illegal migrants, and some officials say he is at least partly to blame. Adams created a department to provide care for illegal aliens and even proposed funding for free education for new arrivals.
Some local officials in the city say the sanctuary status, and the migrant-friendly policies, are driving people toward New York. "The unfortunate reality is that the largesse of our sanctuary policies is now threatening to sink our city entirely," said one Republican councilwoman.
An unnamed Democratic aide said the relationship between the NYC Mayor and the White House has soured. He added that Adams was "almost certainly" sidelined for his comments on immigration. The official Biden campaign office has not commented.
Copyright 2023, StraightNews.org