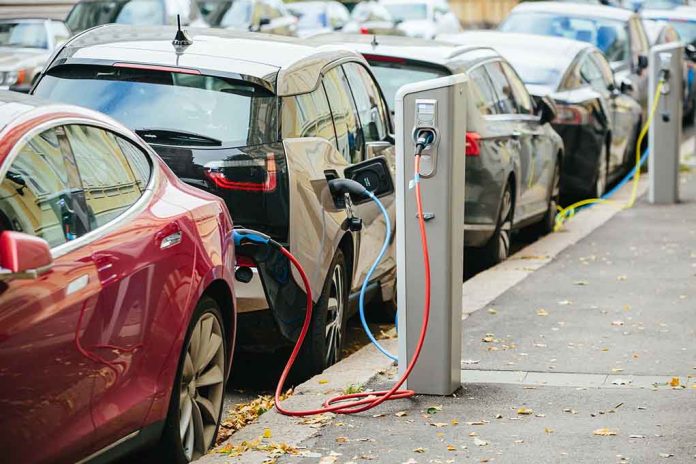 Experts Issue STUNNING Warning To World About Electric Vehicles
(StraightNews.org) – The Left is pushing hard for all vehicles sold to be all-electric by 2035. This would eliminate internal combustion engines that have been around for decades and have proven to be long-lasting and easy to maintain. One top mechanical engineering group is now warning that an all-electric fleet by 2035 may not be the best idea, highlighting that there are other options to achieve the same goal without going solely electric.
According to This is Money, the Mechanical Engineering Industry Association (VDMA) told European nations that only selling electric vehicles after 2035 is "the wrong way to go" and instead reminded politicians internal combustion engines are "ecological and economically advantageous." To make the latter engine carbon neutral, the VDMA proposed the switch to e-fuels, a synthetic version of fuel that Porsche and Mazda have begun developing.
Manufacturers can make e-fuels by pulling carbon from the environment, offsetting any tailpipe emissions. One American shared more about this push for diverse energy-efficient cars:
Having only electric cars on sale from 2035 is the 'wrong way to go', warn engineering experts who say internal combustion engine is not the problem – fossil fuel is
via https://t.co/brwnwZ16Yb https://t.co/wwjd79mVxt

— Frank (@gahan_frank) April 26, 2022
Anytime there are more versions of a product, it drives creativity, diversity, and competition among companies. Having more options than just an electric car will push manufacturers to keep looking for better, more sustainable alternatives when it comes to vehicles. Hopefully, politicians take the VDMA's suggestions into account when writing laws moving forward.
Copyright 2022, StraightNews.org