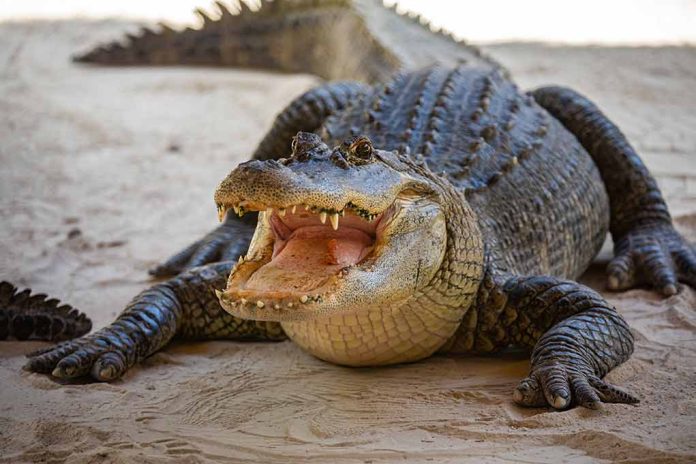 (StraightNews.org) – A couple in Louisiana were startled to find an alligator in their home. Don and Jan Schultz found the 5-foot reptile in their house in New Iberia at 1.30 in the morning and believe it entered through the door they installed for their dog. The couple recorded the encounter and posted it on YouTube. The video shows a trapper capturing the animal, securing its mouth, and removing it from the home with the help of law enforcement officers.
"I couldn't focus very good having just woke up. But when the full shape registered in my brain, I jumped back. My foot had only been about 12 inches away from its head," Mr. Schultz said.
The trapper said the intense heat in Louisiana in June probably prompted the animal to seek refuge in a cool spot.
The US Fish and Wildlife Service estimates there are around 4 million alligators throughout Arkansas, North Carolina, South Carolina, Georgia, Florida, Louisiana, Alabama, Mississippi, Oklahoma and Texas. Human encounters with the formidable creatures have increased in recent years, partly due to the erosion of their habitat.
However, not all encounters between humans and alligators are negative; some are friendly and warm, and people even use the animals for emotional support in times of crisis. Last year, Joseph Henney, a 69-year-old from Pennsylvania, told the story of Wally, his emotional support alligator. A video of Henney and Wally walking together in a park in Philadelphia went viral and Henney told how Wally was given to him by a friend in Florida when he was going through a period of loneliness and depression.
Wally became his closest companion. "He is constantly with me, constantly keeping my attention, and making me laugh. We found that he does sense people's emotions, and he tries to comfort them," Henney said. He added that Wally is no ordinary alligator as he exhibits no aggression, he does not bite, and is highly affectionate.
Copyright 2023, StraightNews.org