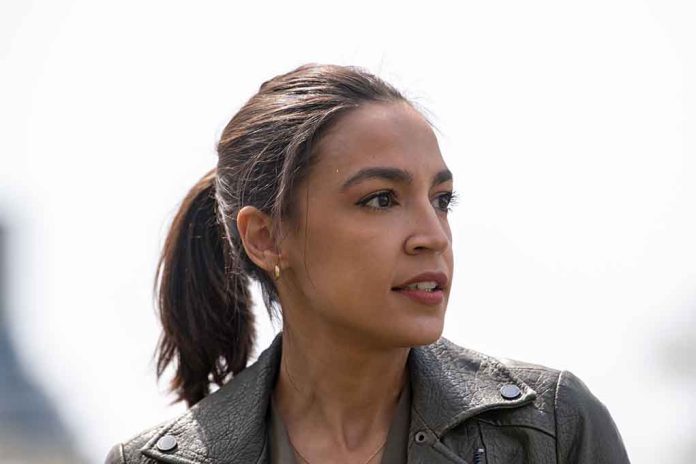 (StraightNews.org) — New York Rep. Alexandria Ocasio-Cortez has lashed out at the ads shown during Super Bowl LVII saying Jesus would not approve of the "fascist" messaging. The Christian group He Gets Us spent $20 million for two adverts to run on Super Bowl Sunday. The ads showed people arguing angrily and ends with the line "Jesus loved the people we hate. He gets us. All of us." The second commercial featured kids helping each other out. The caption reads, "Jesus didn't want us to act like adults. He gets us. All of us."
When the ads were aired, Ocasio-Cortez took to Twitter and wrote, "Something tells me Jesus would *not* spend millions of dollars on Super Bowl ads to make fascism look benign." It is unclear exactly what parts of these messages were felt to be fascist by Ocasio-Cortez but it is likely she is referring to the Republican-voting Christian base across the United States.
According to CNN, the group behind the ads is a subsidiary of The Servant Foundation which has donated millions of dollars to the conservative Christian group Alliance Defending Freedom. This group is reportedly involved in campaigning against LGBTQ rights. A spokesman said its funding comes from people of all backgrounds and a diverse range of views.
Ocasio-Cortez is one of the more talked-about members of the House of Representatives and exemplifies the new youthful hard-left on Capitol Hill. Elected in 2019 for New York's 14th Congressional District, she was the youngest woman (29 years old) ever to serve in Congress. The same year, she was described as one of the most recognizable people in politics as frequent media appearances made her fame take off. She is a member of the Democratic Socialists of America and is fiercely critical of Israel. In 2019, she was one of only 17 House Members to vote against a resolution condemning the anti-Israel Boycott, Divestment, and Sanctions campaign.
Copyright 2023, StraightNews.org