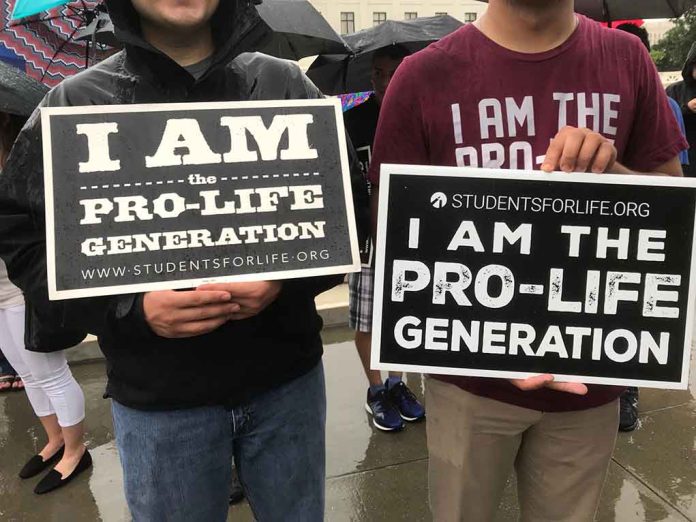 (StraightNews.org) — The Republican Governor of Arkansas, Sarah Huckabee-Sanders, has signed a bill that allows an anti-abortion monument to be constructed outside the state Capitol. The "monument to the unborn" will be privately funded and created with the input of pro-life groups. The bill to allow the construction was passed by the state House recently, having sailed through the state Senate early in March. The proposal was introduced by Rep. Mary Bentley who said the aim is to "remember those children we were not able to protect and we will not be able to forget." An artist will now be selected by the Capitol Arts and Grounds Commission to undertake the statue's design.
Arkansas has among the strongest and most stringent anti-abortion laws in the United States. In 2019, a law was approved in the state that said abortion could only be an option in cases where the life of the mother was threatened. This legislation came into effect when the Supreme Court overturned the Roe v Wade ruling in 2022.
Tennessee, which also enacted legislation to ban abortion in almost all cases, has passed a similar law to allow the creation of a memorial statue, but the structure has yet to be built.
Since the Supreme Court overturned Roe v Wade, internal battles have been taking place in individual states. The Supreme Court in Ohio has been deliberating on potential challenges to a similar ban in that state. Justices ruled by 4-3 that they would review legal questions on whether abortion providers can challenge the state's laws, and whether the attorney general can appeal orders blocking state laws. The Court would not agree to review whether the state constitution creates a right to abortion.
Meanwhile, Wyoming has become the first state to outlaw abortion pills. Those found to have prescribed, distributed, or sold any drug used for the facilitation of pregnancy termination will be subject to a fine of $9,000.
Copyright 2023, StraightNews.org