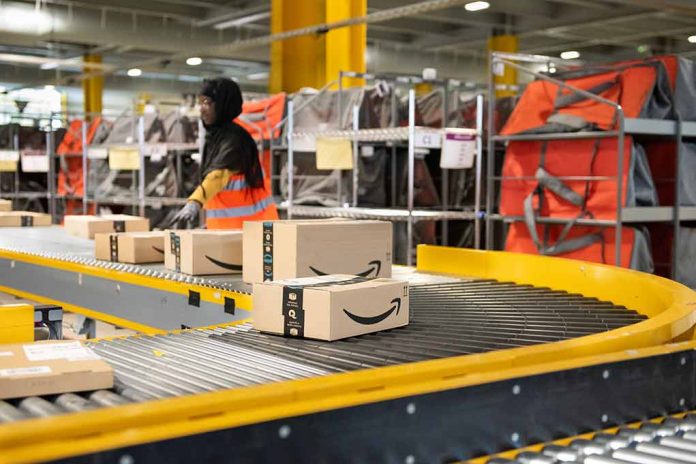 (StraightNews.org) – Left-wing Vermont Senator Bernie Sanders is accusing Amazon of facilitating "dangerous and illegal conditions" at its warehouses. In a letter to CEO Andy Jassy on June 20, the Independent Congressman said he intends to investigate the online shopping giant's employment practices.
Sanders is the chairman of the Senate Committee on Health, Education, Labor, and Pensions, and in his letter to Amazon, he said the company's quest for profits "at all costs" has created an unsafe environment for its staff.
The Senator's letter was hard-hitting and pulled no punches. He said Amazon's facilities are uniquely dangerous for workers, and the company monitors their every move.
"Amazon knows when they step off the floor to go to the bathroom or pause to catch their breath," he wrote. Sanders also alleged that the rate of injuries among Amazon staff is double that of workers in other warehouse jobs.
The Department of Labor's Occupational Safety and Health Administration (OSHA) has issued 30 hazard alert letters and 50 citations to Amazon for violating health and safety laws. Yet, nothing has changed, the Senator said.
Amazon spokesman Steve Kelly has fiercely refuted the claims and said the company is proud of its progress in staff safety. He said there has been a 23% reduction in "recordable injuries across our US operations since 2019." Kelly also stated that Sanders is welcome to tour some of its facilities and see the improvements made.
It is not the first time Bernie Sanders has clashed with Amazon. At a hearing in the Senate last year, the Senator addressed billionaire chairman Jeff Bezos in his absence and asked why he is determined to discourage staff endeavors to create unions. "Amazon has done everything possible — legal and illegal — to defeat union organizing efforts," Sanders said.
Christian Smalls, head of the Amazon labor union, agreed with Mr. Sanders and said the government should not offer federal contracts to Amazon unless staff conditions improve.
Copyright 2023, StraightNews.org