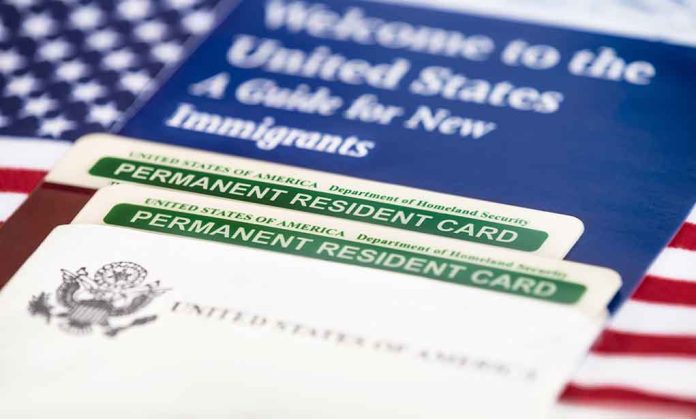 (StraightNews.org) — The Biden administration has unveiled its new design for US Permanent Resident cards, also known as green cards. The US Citizenship and Immigration Services (USCIS) began issuing the new cards on January 30th and current cards will be phased out as they expire. The emphasis on security will now be a priority, said the agency.
USCIS issued a statement saying, "This redesign further demonstrates USCIS' commitment to taking a proactive approach against the threat of secure document tampering, counterfeiting, and fraud."
Green card fraud is widespread in the US and Immigration and Customs Enforcement officers make thousands of arrests every year. Criminal organizations known as "document mills" produce fake green cards as well as social security cards and driving licenses. The illegal market is thought to be worth millions of dollars.
On its website, USCIS warns people of the penalty for using fraudulent documents to stay in the US. It says people may be barred from admittance to America if found to have willfully participated in fraud. It also warns that there are many other immigration-related scams that people should look out for.
These include a con trick where individuals pose as USCIS officials to try to elicit funds from migrants. Other fraudsters offer help they cannot provide, for a fee. There is also a fake "USCIS New Delhi Field Office" ostensibly operating from India and misleading people to believe they have been approved for a US Visa, provided they pay administration costs. The Immigration Service warns migrants never to make payments on the phone or by email, and to beware of job offers that incur a processing fee.
The number of legal immigrants to America has rapidly increased in the last few decades and rises year after year. There are around 13 million green card holders currently living in the United States, and hundreds of thousands of cards are issued each year. In 2021, 740,000 people received permanent residence, up from 710,000 people the previous year.
Copyright 2023, StraightNews.org