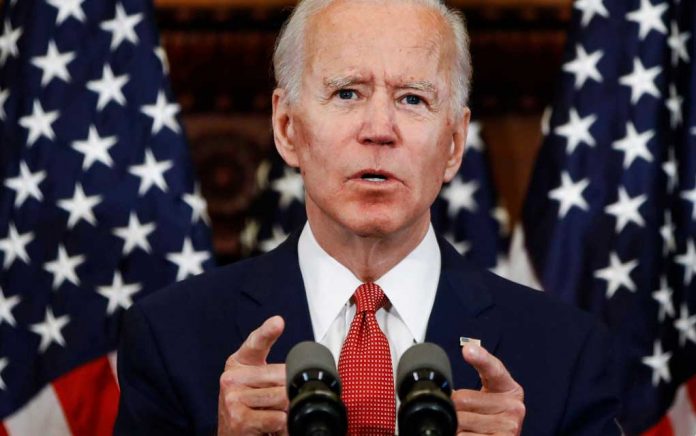 (StraightNews.org) — President Biden has formally announced his campaign for the White House in 2024. In a campaign video, the President showed footage of the events of January 6th, 2021, and said his primary mission is to fight for democracy and freedom. "But around the country, MAGA extremists are lining up to take those bedrock freedoms away," he said. The video ends showing Biden and Vice President Kamala Harris greeting enthusiastic members of the public.
The announcement ends months of speculation around the President's potential bid, with many questioning whether he has the mental and physical strength for a second term. If elected, he will be 82 when he re-enters the Oval Office. At 80, he is already the oldest President in US history.
Ronna McDaniel, chairwoman of the Republican National Committee, immediately responded to the announcement and said President Biden is out of touch with public opinion. "Republicans are united to beat Biden and Americans are counting down the days until they can send Biden packing," she said.
His most likely opponent is Donald Trump, who recently said there is "something wrong" with the President. Analyzing Biden's response to a question posed to him on Easter Sunday about standing in 2024, Trump said Biden was almost incoherent. "It was a long answer about the eggs and this and that," said Trump, before adding, "I don't think he can."
More recently, the former President claimed Biden's record in the White House is worse than "the five worst presidents in American history." Trump argued that the worst Presidents in history combined could not have damaged America as much as Biden. He said President Biden had overseen skyrocketing inflation, failing banks, and the prospect that the US dollar would no longer be the world standard.
The Biden-Harris campaign detailed its campaign team soon after the announcement. Julie Chavez Rodriguez is the campaign manager, with Quentin Fulks as deputy. Rodriguez served as deputy campaign manager on the Biden-Harris ticket in 2020.
Copyright 2023, StraightNews.org