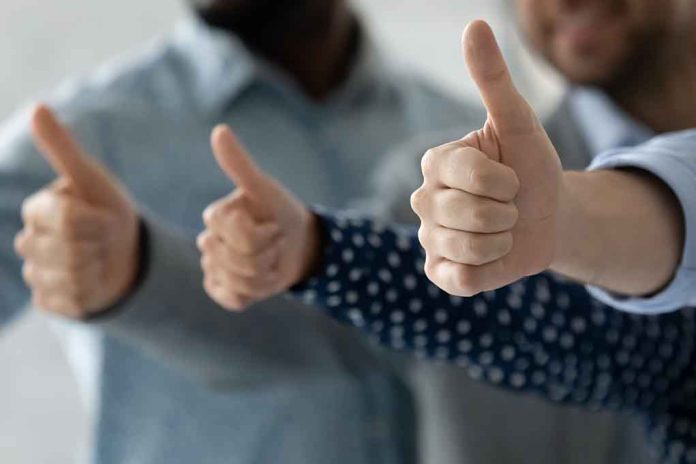 (StraightNews.org) — President Joe Biden's approval rating has risen among Democratic voters, particularly the young. An Emerson College survey from February 27th shows that 85% of Democrat supporters aged 18 to 34 believe he is the right choice to be the party's nominee for the 2024 White House race. Only 15% felt he is not. His support overall has risen since the last Emerson poll was carried out a month previously. It has increased from 58% to 71%.
The President is also popular among older age groups. Of those aged between 35 and 49, 72% said that Biden should be the nominee, with 28% disagreeing. Among 50 – 64-year-olds, 61% support Biden, and of those older than 65, 67% think the President should run for the White House again.
The Emerson poll is not the only one to see more favorable results for President Biden. An NPR/PBS NewsHour/Marist poll, also conducted in February, reveals the highest approval ratings for the President since March 2022. He was at only 36% in July last year but this has risen to 49%.
The new figures indicate that there is a growing acceptance that Biden has the best shot of winning the Presidency for the Democrats, something that some of the party's supporters had doubted as recently as last November. At that time, 54% of Democrats felt that another candidate is preferable, with many citing the President's age as a concerning factor.
There appears to be little competition in the Democrat race. Vice President Kamala Harris is the party's second choice for the 2024 contest but she comes in more than 20 points behind Biden.
Meanwhile, the identity of the Republican contender is less certain and Donald Trump is reportedly losing support at the highest levels of the GOP. A Politico report in February even stated that some Republicans are beginning to "plot against" the former President. Other high-profile candidates include Nikki Haley, while Florida Governor Ron DeSantis is thought to be preparing to declare his intention to enter the race.
Copyright 2023, StraightNews.org