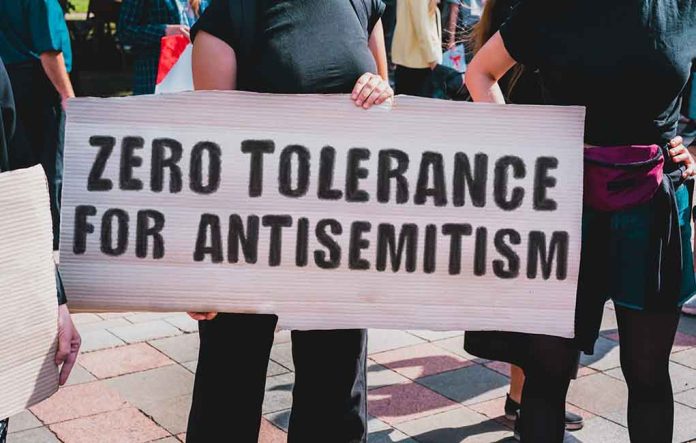 (StraightNews.org) — President Joe Biden will establish a government task force to combat antisemitism, the White House has confirmed. The inter-agency group will be led by the Domestic Policy Council and the National Security Council and will meet with Jewish groups and community leaders to formulate a national strategy to counter anti-Jewish prejudice.
The announcement comes in response to a letter written to the President on December 6th asking for a "whole-of-government" approach to violence against American Jewish communities. Signed by over 100 Members of Congress, the letter stated, "we write to urge you to ensure leaders working within your Administration are working together to execute a unified national strategy to monitor and combat antisemitism".
The Anti-Defamation League (ADL), a Jewish non-governmental organization based in New York, reported in April that anti-Semitic incidents in the US had hit an all time high last year. Such incidents hit a spike during the 11-day conflict between Israel and Hamas in May 2021. Dozens of US cities saw anti-Israel protests at the time that resulted in violent assaults on Jews in cities including New York and Los Angeles.
Jonathan Greenblatt, CEO of the ADL, said there was always a spike in antisemitism when Israel was engaged in armed conflict, but that 2021 saw "shocking" levels of harassment and violence aimed at Jewish Americans.
New York City, home to the largest Jewish community in the United States, has seen a year on year rise in anti-Semitic harassment. Video clips of violent attacks on Jews in New York prompted Governor Andrew Cuomo to condemn the incidents and instruct New York State Police to intervene and investigate.
Similar occurrences were reported from across the nation, with videos emerging of an attack on restaurant diners in Los Angeles, as well as the vandalism of several synagogues including in Tucson, Salt Lake City, and Chicago.
Copyright 2022, StraightNews.org