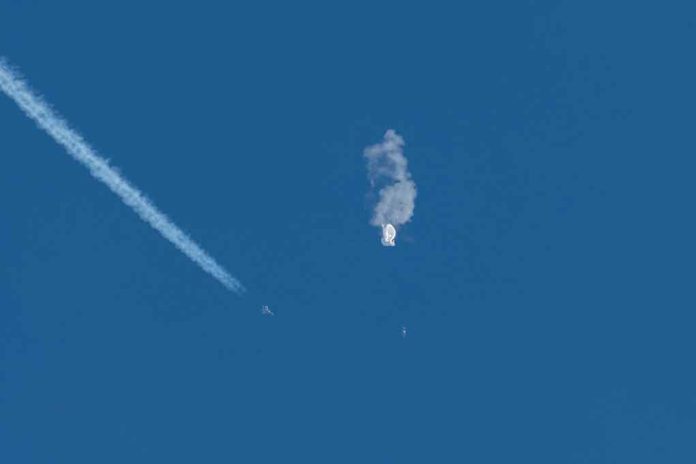 (StraightNews.org) – President Biden did not respond to a suspicious vessel flying over US airspace on June 26. The Department of Defense's lack of response prompted Montana Republican Rep. Matt Rosendale to condemn the administration's lax approach to national security. Mr. Rosendale spoke out when his constituents informed him of a balloon flying over Dawson County, Montana, on the evening of June 25.
Congressman Rosendale immediately contacted the Department of Defense who said they would not investigate because the balloon was too small to be a spying device. The Republican tweeted, "If the spy balloon in February taught us anything, it's that Montanans are vigilant and want to know what is flying over our state AND will expose the Biden Administration for not protecting us!"
In February of this year, a device was spotted over Billings, Montana, close to a sensitive military site. About the size of a city block, the US government said the apparatus was Chinese and was carrying out surveillance in American skies. China denied all knowledge of the vessel, but the incident was considered serious enough for Secretary of State Antony Blinken to cancel a scheduled trip to Beijing.
US forces shot the device out of the sky over the Eastern seaboard, but GOP Congress members were incensed that the balloon was able to travel so far across the United States before the military took decisive action to take it down. Criticism of Biden was not limited to Republicans, however.
Democrat Jim Himes of Connecticut said he had "serious concerns" about the Biden administration's inaction, and lack of explanation, on strange objects flying in US airspace. He spoke after three such devices were blown out of the sky in a matter of days.
"In the absence of information, people will fill that gap with anxiety and other stuff," Himes said. Matt Rosendale echoed those sentiments after the most recent sighting. The Representative called for greater transparency from the White House.
Copyright 2023, StraightNews.org