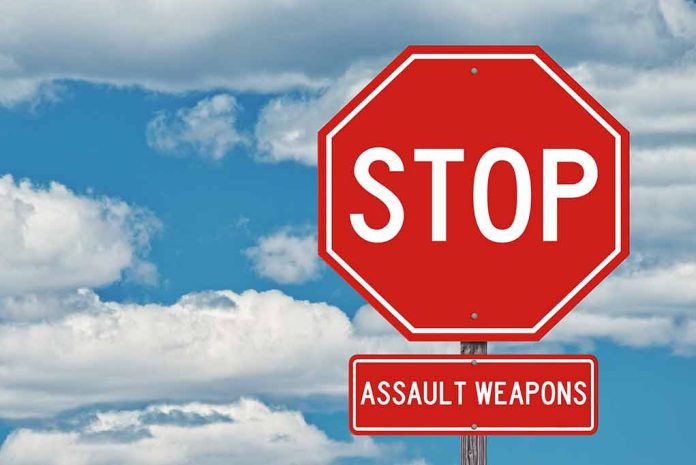 (StraightNews.org) – President Biden reiterated his intention to ban assault weapons in a recent Twitter post. On his personal account, he said it was within America's power to ban assault weapons, require safe storage of firearms, end manufacturer immunity, and enact universal background checks. Accompanying his tweet was a promotional image that read, "I am determined to ban assault weapons. I did it once before, and I'll do it again."
The responses of fellow social media users were almost uniformly negative. One reply came from comedy icon Roseanne Barr, who asked if the President planned to end the immunity of pharmaceutical companies too, or "Do they not donate enough to you and your criminal family?"
In 1994, President Bill Clinton signed the Public Safety and Recreational Firearms Use Protection Act, commonly known as the Federal Assault Weapons Ban. It was included in a wider piece of legislation called the Violent Crime Control and Law Enforcement Act of 1994. It kept an assault weapon ban in place for ten years, expiring in 2004.
Joe Biden was chairman of the Senate Judiciary Committee at the time and shepherded the legislation through that chamber. He has consistently claimed that the ban reduced gun-related fatalities by a significant margin, but this is not readily accepted by experts.
Research has shown that an assault weapons prohibition would have no discernible impact on mass shootings or firearms death rates in the United States. A study by the RAND Corporation entitled "The Science of Gun Policy," found "inconclusive evidence for the effect of assault weapon bans on mass shootings."
The results of a study published in 2019 in the Criminology & Public Policy journal likewise concluded that the legislation did not reduce mass public shootings, but in fact, numbers killed in such incidents increased during the decade 1994-2004.
Nevertheless, analysts say the President's focus on assault weapons allows him to set out a simple political position to which anti-gun activists will respond well.
Copyright 2023, StraightNews.org