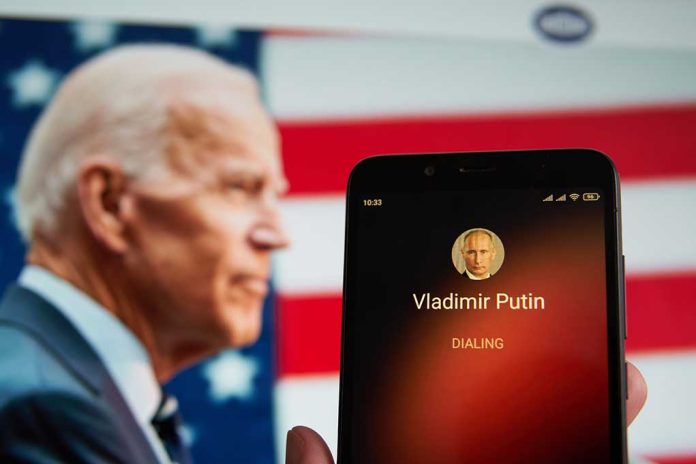 Biden Discusses Risk of Nuclear "Armageddon" — Says Putin Isn't Joking
(StraightNews.org) – Russian President Vladimir Putin's war in Ukraine is not going as planned. As it drags on through its eighth straight month, there is no telling how it will end. The Russian leader has repeatedly threatened to use nuclear or chemical weapons should his army be thwarted. President Joe Biden recently noted how serious he believes these warnings are, emphasizing there is a risk of nuclear "Armageddon."
On Thursday, October 6, President Biden spoke at the Democratic Senatorial Campaign Committee Reception in New York City about a variety of things, including the war in Ukraine. After calling Putin "a guy I know fairly well," he noted the dictator was "not joking" when speaking about the potential to use radioactive weapons in his offensive.
BREAKING: President Biden said the risk of nuclear "Armageddon" is at its highest level since the 1962 Cuban Missile Crisis, as Russian officials speak of the possibility of using tactical nuclear weapons after suffering massive setbacks in Ukraine. https://t.co/r6A6wmnSgl

— The Associated Press (@AP) October 7, 2022
The POTUS then remarked the "prospect of Armageddon" is the highest it has been since the Cuban Missile Crisis in 1962.
These presidential warnings come as the US government purchased $290 million of the anti-radiation drug Nplate from a California company. While the Department of Health and Human Services (HHS) emphasized this was part of a long-term plan to prepare for a potential national emergency, it was unfortunate timing that it occurred during this ongoing nuclear tension.
While Biden continues to warn Americans of a potential global crisis, many other leaders, including Ukrainian President Volodymyr Zelenskyy, believe Putin understands almost every country on the Earth would not forgive such a destructive choice.
Copyright 2022, StraightNews.org