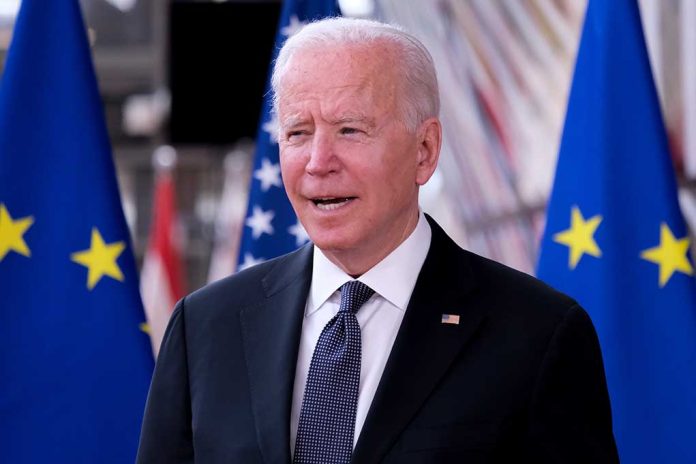 (StraightNews.org) — President Biden joked to an Irish audience on St. Patrick's Day that he is not really Irish because he's never had a drink. The President's ancestors came to America from Ireland in the 1800s and he said he has visited the country many times. Remembering one trip to the Emerald Isle, the President said, "There's still a place called Finnegan's pub… that's related to my family. I'm the only Irishman you ever met, though, that's never had a drink, so I'm okay. I'm really not Irish."
The White House held its first St. Patrick's Day celebration since before the global pandemic on March 17th, and guests included the Irish political leader Leo Varadkar. Biden is due to visit Ireland again in April and he has expressed support for UK Prime Minster Rishi Sunak's new Windsor Framework post-Brexit deal. Mr. Sunak hopes his new agreement with the European Union will bring an end to tensions involving the transport of goods through the UK, the Irish Republic, and the EU. The arrangement will mean minimal paperwork between Northern Ireland and the rest of the United Kingdom, as well as reducing the impact of EU legislation within the province. While the EU has praised the deal, some Unionist politicians in Northern Ireland, as well as Eurosceptics in the British mainland, have said it is effectively useless and changes very little. Biden said the agreement is vital to maintain peace in the troubled region.
Irish leader Leo Varadkar said he will "roll out the red carpet" for President Biden when he visits the Republic. In his opening remarks at the White House, Varadkar said, "Every US President is a little bit Irish on St. Patrick's Day, but some are more Irish than others," before adding that Biden is an "unmistakable son of Ireland" and comparing him with perhaps the most famous of Ireland's American politicians, John F. Kennedy. Both sides of Kennedy's family traced their roots back to Ireland.
Copyright 2023, StraightNews.org