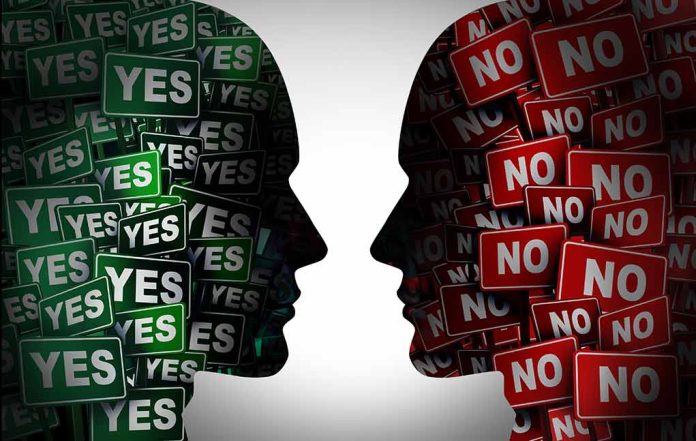 (StraightNews.org) – President Biden's approval rating is falling among independent voters. This crucial demographic may decide who enters the White House next year in what is expected to be a tight race between the President and former President Donald Trump. An NBC poll from mid-September reveals that Biden's approval has dropped to 36%, and according to a separate survey undertaken by Washington Post-ABC News, 3 out of 5 independents want a different Democratic candidate.
Kyle Kondik from the University of Virginia Center for Politics said several cross-party voters hold a negative view of both Biden and Trump, but "These are the folks who are going to decide the election."
Primary election polls, meanwhile, paint an interesting picture. A survey by Quinnipiac University showed that GOP support for Trump had risen from 57% in August to 62% in September. Ron DeSantis is down from 18% to 12%, and Vivek Ramaswamy is in third place with 6%. Nikki Haley is level with Mike Pence at 5%, Tim Scott at 3%, while Chris Christie and all other candidates are at 2% or below.
Half of Republican or Republican-leaning voters say they are committed to their candidate and will not change their minds, but 48% say they could be persuaded to think again.
President Biden had the support of 73% of Democrat voters for the primaries, with Robert F. Kennedy at 11% and Marianne Williamson at 8%.
In a rematch between Trump and Biden, the President narrowly won the poll by 47% to Trump's 46%.
In other surveys conducted throughout September, both frontrunners hold a commanding lead in their parties, but general election results can vary significantly. Biden polled his best primary result with 78% in a CNN survey, while Trump's best result in September was 65%.
A Moring Consult result from September 22-24 showed Biden narrowly beating Trump by 43% to 42%. By contrast, a HarrisX survey shows Trump beating Biden 46% to 41%, and ActiVote puts Trump at 52% to Biden's 48%.
Copyright 2023, StraightNews.org