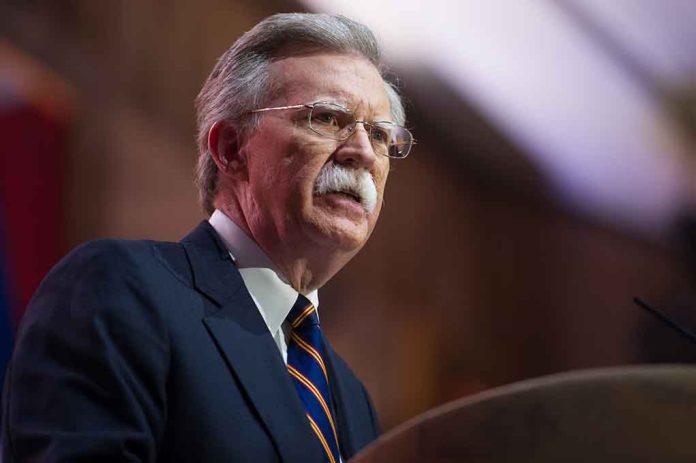 (StraightNews.org) — Former National Security Adviser John Bolton has revealed he may run for President in 2024 in a bid to disrupt the chances of Donald Trump.
Bolton was highly critical of Trump, saying the former President wants to terminate parts of the Constitution. He said that if other candidates don't sufficiently challenge Trump on this, he will step in to do it himself.
His remarks came following the release of documents about Twitter's apparent censorship of the Hunter Biden laptop scandal during the 2020 Presidential election. New Twitter boss Elon Musk provided documents seemingly showing that Twitter removed tweets at the request of Biden's campaign team in the run-up to the election.
Trump responded with several posts on social media, including one that stated: "A massive fraud of this type and magnitude allows for the termination of all rules, regulations, and articles, even those found in the Constitution." He said the nation's founders would not tolerate "false elections."
Trump formally announced his intention to run in 2024 to a crowd at his Mar-a-Lago estate in November. However, a recent poll in Utah suggests that he may have a mountain to climb.
A Deseret News-Hinckley Institute of Politics poll of Utah voters found Trump trailing in third place behind Florida Governor Ron DeSantis (R) and outgoing Rep. Liz Chaney (R-WY). The poll showed Trump at 14.6%, with Cheney at 16.4 and winner DeSantis at 24.2%. The percentage of undecided voters was 20.7.
DeSantis, long seen as a strong challenger for the White House, was re-elected in the gubernatorial elections in November with 59.4% of the vote. That result has further bolstered his potential for a White House bid with crowds chanting "two more years" at a rally in Tampa. The chant clearly implied that DeSantis will not serve his full four years as Governor, but instead will be in Washington as the new Republican President.
Copyright 2022, StraightNews.org