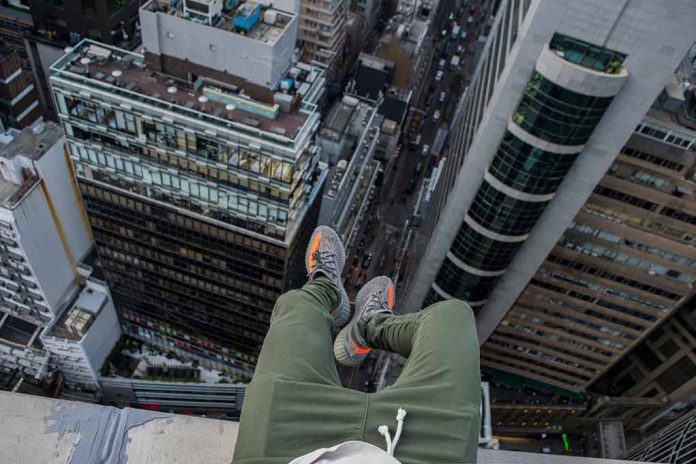 (StraightNews.org) – Police arrested a British adventurer in South Korea for climbing one of the world's tallest skyscrapers with his bare hands. George King-Thompson reached the 72nd floor of the 123-story building when law enforcement and emergency services arrived to remove him from the side of the building using a gondola lift. King-Thompson was uninjured in the encounter except for a small cut on his right knee, and authorities have not stated what action will be taken against him.
The adventurer has a long history of daredevil stunts, particularly involving "free climbing" where people scale tall structures without any support mechanism. In 2019, he served three months in prison when he climbed the tallest building in London, The Shard. His parents defended him at the time, saying he was trying to teach people to avoid fear and follow their passions. His mother told BBC News, "He has got ADHD (attention deficit hyperactivity disorder). It's wrong to lock someone like that in a cell."
Some of the world's most celebrated free climbers include American Tommy Caldwell, one of the first to scale the Dawn Wall on El Capitan in Yosemite National Park with his long-time friend and fellow climber Kevin Jorgeson. The first woman to scale the rock face was Illinois-born Steph Davis, who achieved the feat in 2004.
The most famous free climber to date is Frenchman Alain Robert, who is known as the Human Spider. Robert holds the record for the most climbed buildings, earning him a spot in the Guinness Book of World Records in 2015. He started his climbing career in 1994 when he scaled the side of the Citigroup Center in Chicago. Since then, he has climbed to the top of the Eiffel Tower, the Golden Gate Bridge in San Francisco, and the Sydney Opera House in Australia.
In 2011, the Frenchman made history when climbing the world's tallest building without ropes or safety apparatus. He scaled the Burj Khalifa in Dubai in 6 hours and 13 minutes.
Copyright 2023, StraightNews.org