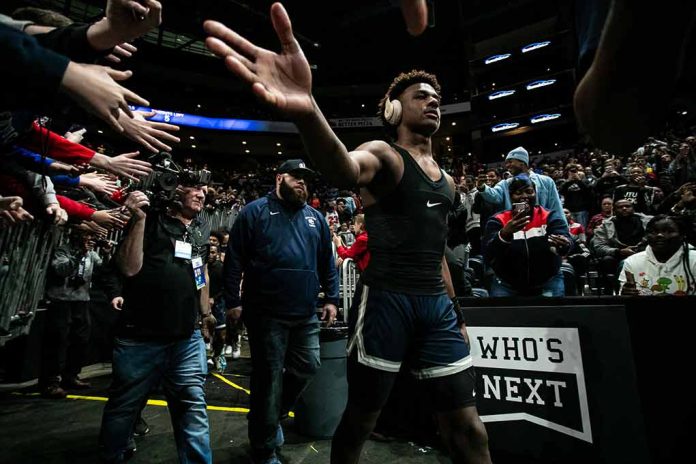 (StraightNews.org) – Bronny James, the 18-year-old son of basketball star LeBron James, collapsed when his heart stopped in Los Angeles on July 24. He was working out when the attack occurred. The family released a statement, saying, "Yesterday, while practicing, Bronny James suffered a cardiac arrest. Medical staff was able to treat Bronny and take him to the hospital."
He is said to be in a stable condition and has been released from the intensive care unit.
The causes of sudden cardiac arrest are not thoroughly understood, and recent studies have found that while heart incidents are decreasing overall, they are increasing among younger age groups. Ironically, this is partly because young people are far less likely to receive preventative treatment because they are not expected to develop heart issues.
A further cause of expanding cardiac problems in the young is obesity. A study in 2018 found that obesity puts significant pressure on the heart, even in children. The Centers for Disease Control and Prevention (CDC) gathered data on high blood pressure in people aged 12-19 between 2001 and 2016 and discovered that it was elevated in more than 1 in 7 patients.
The American Heart Association says there are around 350,000 out-of-hospital heart attacks in the US annually and 90% of these are fatal. Men over the age of 55 are the most vulnerable group, but around 2,000 otherwise healthy people under the age of 25 suffer an attack every year. The symptoms vary from patient to patient but usually involve chest pains, palpitations, and shortness of breath.
In athletes and amongst teens, warning signs can be different, and indications that a person is at risk include sudden and unexplained collapses during exercise, shoulder pains, rapid or unexplained dizziness, as well as a sudden onset of fatigue.
Immediate medical treatment is necessary for all instances of heart attack, or they will almost always be fatal. People with persistent warning symptoms should seek medical attention and preventative treatment.
Copyright 2023, StraightNews.org