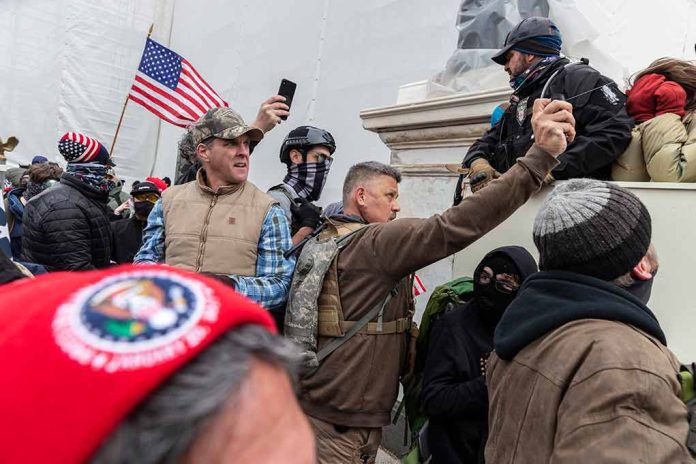 (StraightNews.org) – A DC court has sent Bruno Joseph Cua, the youngest person to face criminal charges for participating in the events of January 6, to prison for one year. Judge Randolph D. Moss of the US District Court for the District of Columbia issued his decision on July 26 and sentenced Cua to a year's imprisonment followed by 36 months probation. The defendant, who was 18 at the time of the incident, apologized to the court and said, "Everything that day was just one terrible decision after another."
The Georgia native was photographed sitting in the seat of the Vice President in the Senate with his feet on the desk in front.
Prosecutors sought a much longer sentence for Cua, but the judge said his age and maturity should be taken into account. "Cua's crimes were not motivated by poverty or need and that sets him apart from many criminal defendants appearing in this courthouse," the prosecuting attorneys argued. Cua's defense however said he was an impressionable 18-year-old kid who had never lived away from his parents and got swept up in the hype. They also said his goal was to gain followers on social media, lending further credibility to the immaturity argument.
Cua, now 21, told the court he is mortified by his actions and said he "falsely" believed the election was stolen. He stated that he was duped into participating in what he now describes as "an attack on democracy."
Investigations and court cases involving the events of January 6 are ongoing. As of the end of June 2023, more than 1,000 people were arrested, and 485 had gone through the judicial process. Of those, 277 were jailed, while more than 110 were given non-custodial sentences.
The longest sentence was imposed on Stewart Rhodes, who was imprisoned for 18 years. He was found guilty of seditious conspiracy for organizing dozens of groups to travel to Washington, DC, on the day.
Copyright 2023, StraightNews.org