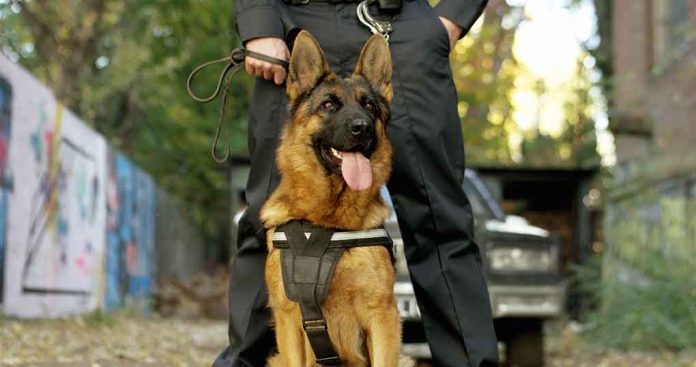 (StraightNews.org) — A bill to ban police dogs from protests has been shelved in California but is expected to return. Assemblyman Corey Jackson (D-Perris) and Assemblyman Ash Kalra (D-San Jose) introduced Assembly Bill 742 in February when both argued that the use of police canines has racist undertones. Law enforcement officers fiercely opposed the move, claiming dogs help them to maintain control and reduce instances of firearms use in detaining violent offenders.
The American Civil Liberties Union (ALCU) backed the legislation and ramped up the racial element saying dogs were used in the 1950s and 1960s against civil rights protestors. Corey Jackson echoed the sentiment: "Since their inception, police canines have been used to inflict brutal violence and lifelong trauma on Black Americans and communities of color."
Republicans and police officers strongly oppose the bill, however. Sacramento Sherriff Jim Cooper said dogs are invaluable when chasing suspects and searching for offenders in confined spaces. Bob Eden, a retired police K9 handler, said the legislation is a knee-jerk reaction. "A lot of times we're dealing with violent people that won't submit otherwise or wouldn't be captured otherwise," he said.
Mr. Eden added that the higher the number of dogs, the lower the number of shootings and assaults on officers. He said the animals save the lives of both law enforcement officers and suspected offenders.
Police dogs have a long history, particularly in Europe, where they were used as far back as the Middle Ages to hunt thieves. Police used them in Paris to fight violent criminal gangs in the 1800s, and the first formal police dog section was established in Belgium in 1889. By the early 1900s, they were common in the United Kingdom and were even deployed by police (unsuccessfully) to help in the hunt for the infamous Jack the Ripper. The most common breeds are the German Shepherd, the Labrador, and the Doberman.
In 1956, Baltimore Police Department established the first K9 unit in America.
Copyright 2023, StraightNews.org