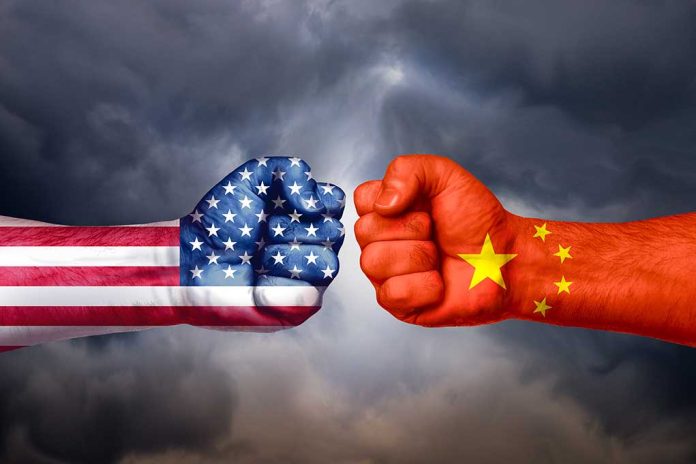 (StraightNews.org) — China carried out simulated strikes on Taiwan in response to its President's recent meeting with Republican House Speaker Kevin McCarthy. The United States issued calls for restraint, and Washington said it is monitoring the situation closely.
The three-day operation was entitled "Joint Sword" and involved rehearsing an encirclement of the island. Communist China also practiced sending personnel, ships, and planes into the air and sea surrounding the Taiwan Strait, located off three of the island's four coasts. A Chinese TV station said drills had "simulated joint precision strikes against key targets on Taiwan island and surrounding waters."
The move came in response to a controversial but informal meeting between McCarthy and Taiwanese President Tsai Ing-wen in California recently. The two leaders met at the Ronald Reagan Presidential Library in Los Angeles and were accompanied by a delegation of both Republican and Democratic lawmakers. Tsai thanked the United States for its friendship and support and said it "reassures the people of Taiwan that we are not isolated, we are not alone."
Protesters gathered outside the venue. Some were there in support of Taiwanese independence, while others insist the island is part of China and should remain so.
The engagement with McCarthy took place only days after the President had met with House Minority Leader Hakeem Jeffries in New York.
Beijing called the events a "provocation" and said that counter-measures would follow.
The small island is located around 100 miles from the southeast coast of China. It first came under Chinese control in the 17th century, but after a period of Japanese leadership, it was returned to China at the end of World War II. Since 1949, it has been governed by nationalists who fled newly communist-controlled China that year. The Chinese want reunification and have pressured the world's countries not to accept Taiwan as a sovereign state. It is not recognized as such by the UN or most of the world's nations, including the US.
Copyright 2023, StraightNews.org