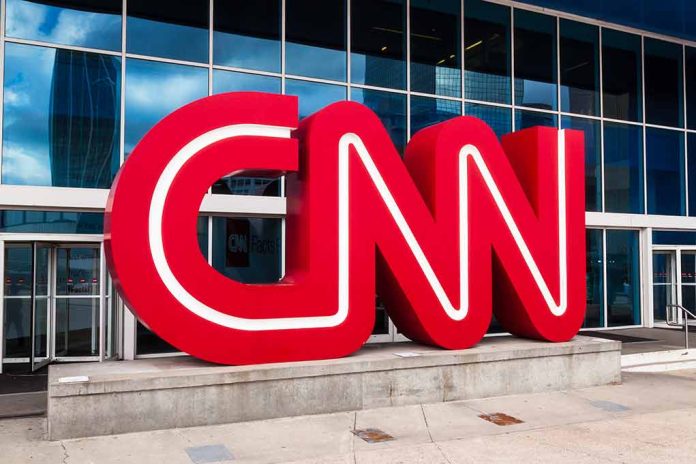 (StraightNews.org) — CNN's ratings have collapsed, and the network has fallen to fourth place behind Newsmax. Its average viewership stands at around 335,000, while Newsmax is at 357,000. Fox News is in first place with 1.44 million viewers, and MSNBC is in second with an average viewership of 1.084 million.
A Forbes analysis of the figures states that CNN is in third place among the key demographic age group of 25-54, trailing behind Fox and MSNBC. The drop comes immediately after the network enjoyed a temporary boost for its controversial interview with former President Donald Trump.
CNN's Kaitlan Collins interviewed Trump in what turned out to be a major success for him. His popularity has since skyrocketed. A Morning Consult survey from May 16th puts Trump at 61%, his highest polling yet. The distance between the former President and Florida Governor Ron DeSantis has stretched to 43%.
President Trump mocked CNN after the interview and said the network is "traumatized." He gave an interview to a newly-launched organization, The Messenger, where he commented on some of the critical issues of his campaign.
On Ron DeSantis, Trump repeated that the Florida Governor is "disloyal." He added, "He's got no personality. And I don't think he's got a lot of political skill."
Trump repeated his claim that the 2020 election was stolen but was reticent on abortion. The former President has warned Republican candidates not to go too far on the issue and to commit to exceptions in cases of rape or incest. He said not including these exceptions was driving voters to the Democrats. He added that the latest legislation introduced by DeSantis in Florida that bans abortion after six weeks gestation was "too harsh" even for many people in the pro-life movement.
When quizzed further on his CNN interview, Trump appeared to ridicule the network's reaction and said he was surprised it didn't simply celebrate its high ratings and enjoy the success.
Copyright 2023, StraightNews.org