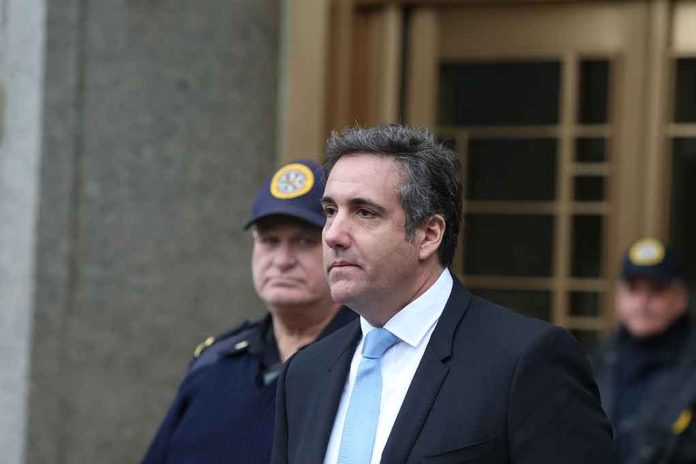 (StraightNews.org) — Michael Cohen, the former lawyer of Donald Trump, has started a GoFundMe campaign to help him fight a legal battle against the former President. Mr. Trump filed a lawsuit against his ex-attorney for $500 million, citing a breach of fiduciary duty, unjust enrichment, conversion, and breach of contract. Cohen was Trump's attorney in 2016 when he made a payment to adult film star Stormy Daniels. He has since turned against Mr. Trump and will testify against him in his upcoming criminal legal battle in Manhattan.
The complaint filed by Trump accuses Cohen of violating an attorney-client relationship and spreading falsehoods about the former President. Cohen's attorney responded by accusing Mr. Trump of abusing the judicial system in order to intimidate and harass his client.
Cohen pleaded guilty in 2018 to a variety of charges, including tax evasion and lying to Congress about Russian interference in the 2016 Presidential election. He was released from prison in November 2021.
On his new GoFundMe page, Mr. Cohen states, "Donald and acolytes continue to disparage me as a way of deflection from his looming legal troubles. I will not be deterred from continuing speaking truth to power. I need your help to do so."
His statement goes on to say that fighting Donald Trump is an act of patriotism and that Cohen is battling for American democracy. He has set a goal of $100,000.
Former President Trump was indicted on 34 felony charges by Manhattan DA Alvin Bragg in March. He has pleaded not guilty on all counts. Republicans in Congress and across the board have angrily accused Bragg of using his office to punish political opponents. Trump said he never thought such a thing could happen in America and that these activities would be more at home in the old Soviet Union.
The GOP-led House Judiciary Committee has established a weaponization panel to investigate federal and government agencies that use their authority to attack or silence conservatives. Many Republicans claim Bragg is guilty of such weaponization.
Copyright 2023, StraightNews.org