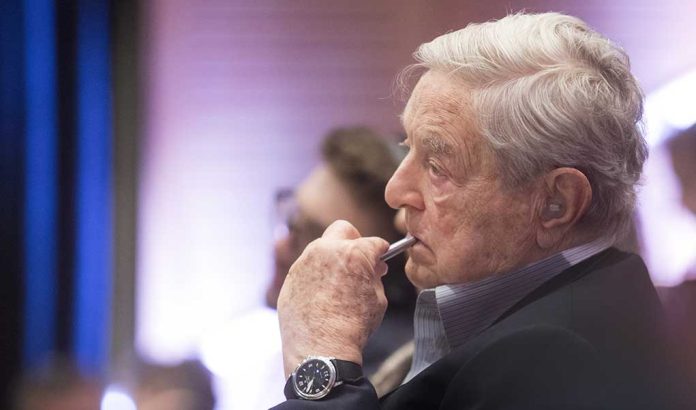 (StraightNews.org) — A group of conservative Jews has formed an organization to oppose George Soros and to counter the accusation that criticism of the billionaire amounts to antisemitism. The organization is founded by a former federal prosecutor and candidate for Attorney General of Missouri, Will Scharf, in partnership with Newsweek editor Josh Hammer. They have named the group Jews Against Soros.
The pair tweeted, "There is nothing antisemitic about opposing George Soros. Today, we are launching Jews Against Soros, a new grassroots coalition of Jews who oppose George Soros's radical left-wing agenda."
In a press release announcing its launch, the group stated that Soros funds much of the radical left in America and "he must be stopped."
George Soros is a Hungarian billionaire financier who has reportedly donated around $30 billion to left-wing causes. One area of influence is law and order, as Soros has funded the campaigns of several Democratic District Attorneys. The New York Post reported in 2021 that Soros helped some of America's most liberal DAs into office – usually with donations funneled through various organizations. Examples include Chicago's Kim Foxx, George Gascon in Los Angeles, Larry Krasner in Philadelphia, and Alvin Bragg in Manhattan.
Tom Anderson, director of the Government Integrity Project at the National Legal and Policy Center, said, "George Soros has quietly orchestrated the dark money political equivalent of shock and awe on local attorney races through the country."
Twitter chief Elon Musk recently added his voice to the condemnation of the Hungarian and said his concern is that the billionaire has "funded so many politicians and DAs, who are soft even on violent crime."
Musk's remarks prompted some to accuse him of helping to spread antisemitic conspiracy theories and lending weight to the belief that wealthy Jews pull the world's strings.
However, Israel's foreign minister said in 2017 that criticisms of Soros are entirely legitimate because he "continuously undermines Israel's democratically elected governments." Left-wing Israelis condemned the government of Benjamin Netanyahu as encouraging antisemitism by denouncing Soros.
Copyright 2023, StraightNews.org