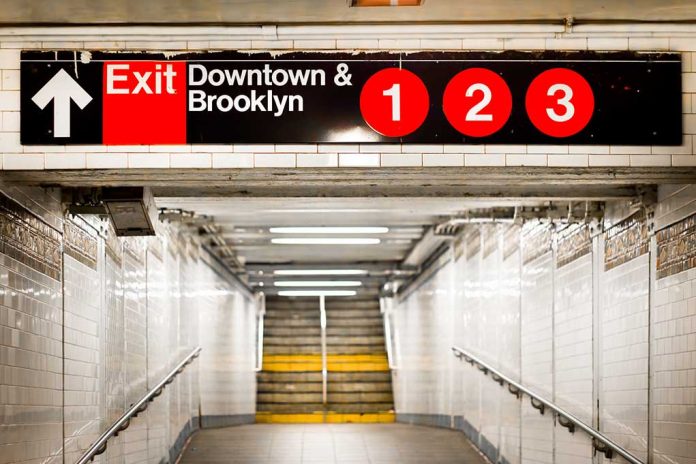 (StraightNews.org) — The attorneys of military vet Daniel Penny say they have multiple witnesses to testify that Jordan Neely was harassing and threatening passengers on the subway just before his death. Penny, an ex-Marine, was charged with second-degree manslaughter when a chokehold he administered on subway passenger Jordan Neely resulted in his death.
The lawyers also deny that Mr. Penny is racist. Neely was a black homeless man known for Michael Jackson impersonations but who also had a history of attacking people on the New York City trains.
Records show that Neely has been arrested dozens of times for assaults on subway riders. In 2021, he was arrested for punching a 67-year-old woman as she exited the subway in Manhattan. She suffered a broken nose and fractured orbital bone. He pleaded guilty to felony assault but received a non-custodial sentence.
Neely has been arrested for public lewdness for exposing himself to women and has other assault collars on his rap sheet. Witnesses say that on the day of his death, he shouted that he was angry and did not care if he went to jail or if he lived or died.
Daniel Penny handed himself over to police after the incident, but District Attorney Alvin Bragg initially decided not to press charges. However, following a day of protests and clashes with police by Black Lives Matter activists, the DA reconsidered and charged Penny with manslaughter.
An online fundraiser collected millions of dollars for Penny's defense within a couple of days of launch. He was publicly supported by several influential conservatives, including Florida Governor Ron DeSantis and Republican Presidential candidate Vivek Ramaswamy, who donated $10,000 to Penny's legal fund.
The ex-Marine's lawyers say he had no intention to kill and was merely acting as a decorated military officer would – he stepped in and took decisive action when he perceived a threat to the people around him.
Daniel Penny said he feels no shame about the incident.
Copyright 2023, StraightNews.org