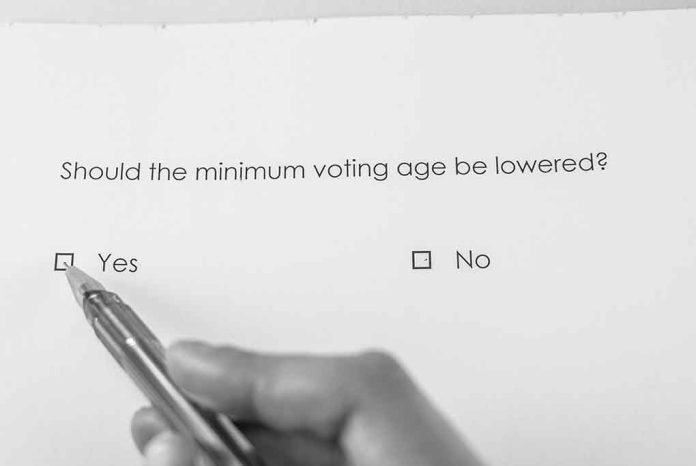 (StraightNews.org) — A group of Democrats has proposed reducing the voting age to 16. This would require an amendment to the Constitution because the 26th Amendment would need to be rewritten. It states that all citizens over the age of 18 have the right to vote. Democratic New York Rep. Grace Meng, who introduced the proposal, said it should be changed to, "The right of citizens of the United States, who are sixteen years of age or older, to vote shall not be denied or abridged by the United States or by any State on account of age."
The move will be seen by many as an attempt to increase Democrat support. Research of voting habits in the 2022 midterms shows that 27% of voters were aged between 18 and 29, and 63% supported Democrats. "We see that young people turned out at the second-highest rate in midterm elections than we've seen in the past 50 years, and second to 2018, which saw the highest youth voter turnout that we've seen since the early 70's," said Abby Keisa of the Center for Information & Research on Civic Learning and Engagement.
President Biden noted the youth contribution in last year's elections and said, "They voted to continue addressing the climate crisis, gun violence, their personal rights and freedoms, and student debt relief."
In March 2022, 125 Democrats voted to lower the age to 16 but this was not enough to get the measure into law. All but one Republican voted against.
Campaigners for a reduced voting age often acknowledge that young people are more likely to vote for current left-wing priorities such as climate change and social justice. "Lower the voting age. The planet depends on it," is the slogan of Vote16USA. Supporters of the reduction also include Michael Moore and Nancy Pelosi. "I think it's really important to capture kids when they are in high school," Pelosi said
Copyright 2023, StraightNews.org