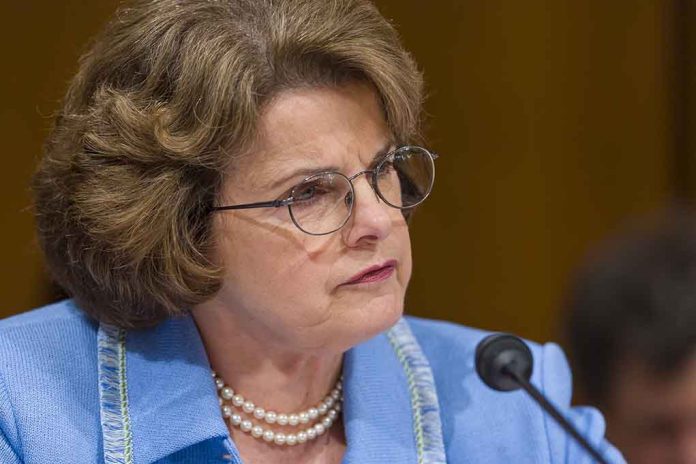 (StraightNews.org) — Senator Dianne Weinstein (D-CA) has delayed her return to Washington amid ongoing health concerns. The long-serving Congresswoman made the announcement only hours after two fellow Democrats called for her resignation. Rep. Ro Khanna (D-CA) posted a tweet calling on the Senator to step down because it is "obvious she can no longer fulfill her duties."
Rep. Dean Phillips (D-MN) responded that he agreed with Khanna. He described Feinstein as a "remarkable American," but it was a dereliction of duty for her to remain in the Senate.
Feinstein, who has served in the Senate since 1992, was hospitalized and diagnosed with shingles in February. She was released from the hospital days later but has yet to return to Washington, citing continued complications related to her diagnosis.
Her absence has caused delays to President Biden's judicial appointments as she serves on the Senate Judiciary Committee. She has therefore asked Chuck Schumer, the Senate Majority Leader, to find a Democratic Senator who can take her place on the committee until her return. Schumer said he will comply with the request.
Senator Feinstein's health was severely affected by her illness, and there are concerns about the cognitive strength of the 89-year-old, who is the oldest sitting Member of Congress. Politico reported in mid-April that the disease has taken its toll on her, and close colleagues have expressed doubt about her ability to resume her role.
Concerns are heightened because the Senator has missed almost 60 votes since her diagnosis and has strained the slim 51-49 Democrat majority in the Chamber.
The contest to succeed Feinstein is already underway in California. Rep. Katie Porter, Rep. Adam Schiff, and Rep. Barbara Lee have all thrown their hats into the ring. Polls taken so far show a two-horse race between Porter and Schiff. Of the Democrats polled in February, 22% opted for Schiff, with 20% favoring Porter. Rep. Lee was in third place with just 6% of the vote.
Copyright 2023, StraightNews.org