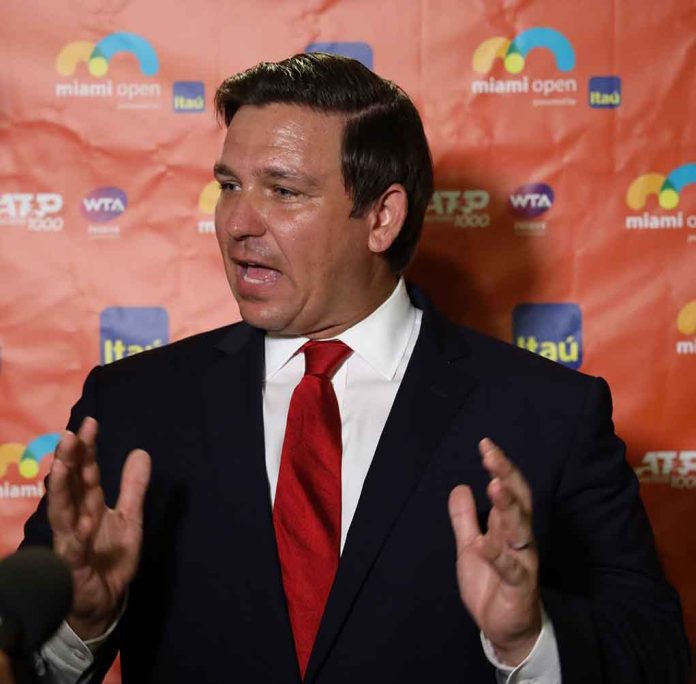 (StraightNews.org) — Florida Governor Ron DeSantis has beaten Donald Trump by 23 points in a new Republican poll. A USA Today-Suffolk University poll found 56% of Republican voters prefer DeSantis with only 33% supporting Trump. More than 60% said they want Trump's policies delivered by a new leader. "Republicans and conservative independents increasingly want Trumpism without Trump", said the director of the Suffolk University Research Center David Paleologos.
A poll of Utah voters recently placed Trump in third place behind DeSantis and Rep. Liz Cheney. In that poll, the former President won the support of only 14.6% of voters.
Trump launched his third bid for the White House at his Mar-a-Lago estate in Florida in November when surveys showed that only 47% of Republicans wanted him to do so. This had fallen from 60% in July.
In further bad news for the former President, a poll by the same organization found DeSantis more likely to beat Biden to the White House. Biden was in the lead against Trump by 47% to 40%, while DeSantis came in ahead of Biden at 47% to 43%.
The results show a further decline in the popularity of Donald Trump, which has accelerated over recent months. Many in the Republican party have blamed him for poor midterm results as candidates with his backing failed to get over the line. He has also received backlash for having dinner with rapper Kanye West (now known as "Ye") and YouTuber Nick Fuentes, both of whom are reported to espouse anti-Semitic views.
The Florida Governor has however yet to declare any plans to run for the White House. Before he made his announcement, Donald Trump warned DeSantis against throwing his hat in the ring. "I don't know if he's running. I think if he runs, he could hurt himself very badly. I don't think it would be good for the party", Trump said in November.
Copyright 2022, StraightNews.org