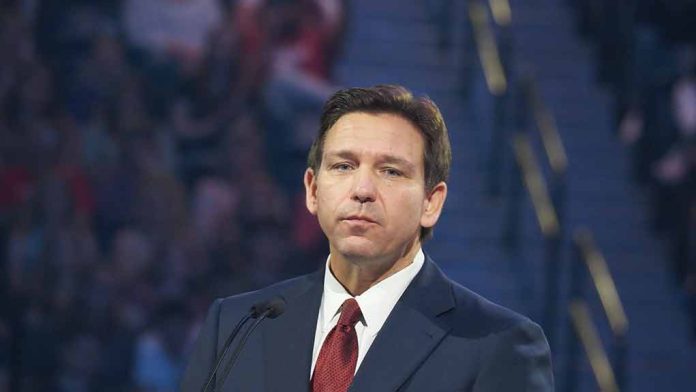 (StraightNews.org) — Florida Governor Ron DeSantis released an emotional video ahead of his formal Presidential bid declaration. The short but powerful clip was posted on Twitter by the Governor's wife, Casey DeSantis. It shows the popular Republican standing backstage, preparing to enter an arena where thousands of supporters are waiting – the sound of cheers is heard as a voiceover declares DeSantis is ready to make the sacrifices required to fight for America.
"But is it worth the fight? Do I have the courage? Is it worth the sacrifice? America has been worth it every single time," the voiceover declares.
The Governor later made his formal announcement in a Twitter stream beset with technical glitches. DeSantis participated in a live launch alongside its CEO Elon Musk. The event, streamed on Twitter's podcast facility Twitter Spaces, started half an hour late and with prolonged periods of silence. These were broken only by Musk reassuring the audience that there was a technical glitch that would easily be overcome.
When the stream did get underway, DeSantis announced that he was running for the White House to lead the "great American fightback." He praised Elon Musk for his approach to free speech, saying we cannot have a democratic society unless people can speak their minds on a public platform and are at liberty to debate issues openly.
DeSantis has entered a crowded Republican field that Donald Trump dominates. The former President's popularity has increased as his legal battles rage. This has primarily been at the expense of DeSantis, whose ratings have fallen.
While Trump has led the field since he formally announced his intentions in 2022, DeSantis has sometimes been hot on his heels. However, following the now-notorious CNN town hall interview, Trump took his most substantial lead. A Morning Consult poll immediately after the CNN event showed Donald Trump at 61%, with DeSantis at just 18%.
After he was indicted on 34 felony counts in Manhattan, Trump's popularity also grew.
Copyright 2023, StraightNews.org