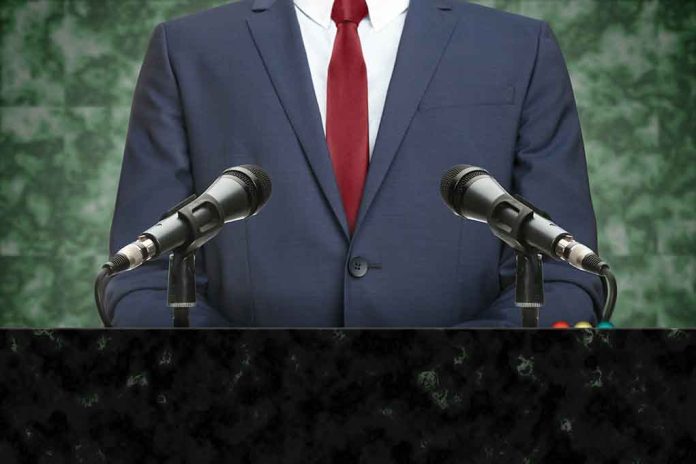 (StraightNews.org) — Florida Governor Ron DeSantis has entered the debate on foreign policy and denounced the federal government's "blank check" for Ukraine. DeSantis is broadening his appeal prior to an expected formal entry to the Presidential race in 2024. He has yet to announce his intentions but has polled well in some key Republican states, including coming in ahead of Donald Trump on several occasions. DeSantis also said that President Biden is neglecting America, including the crisis at the southern border.
The firebrand Floridian has gathered a national following for his no-nonsense stance on the so-called culture wars. He has banned left-wing theories from his state's classrooms and bucked the lockdown trend during the pandemic by keeping Florida open for business. Once an ally of Donald Trump, the former President has launched numerous attacks on DeSantis. Trump said the Florida Governor is a "globalist" and warned that he would "destroy him with a single tweet" if he enters the 2024 contest for the White House. Trump also said that people are moving to Florida in large numbers because of the sunshine, and not because of DeSantis. "People are fleeing from New York to Florida (and other places) because of high TAXES and out of control CRIME, not because of Governor (thank you President Trump!) DeSanctimonious," Trump wrote on his Truth Social Media account. DeSantis has responded to Trump's attacks by stating that he is too busy delivering for the people of Florida to spend his time attacking fellow Republicans.
While the Governor has support among the Republican rank-and-file, others believe he will be crushed by Trump and should wait until the next Presidential election to throw his hat in the ring. Former Alaska Governor and Vice Presidential candidate Sarah Palin said recently that DeSantis should stay out of the 2024 race and wait for a later opportunity. "DeSantis doesn't need to run. I envision him as our president someday but not right now," she said.
Copyright 2023, StraightNews.org