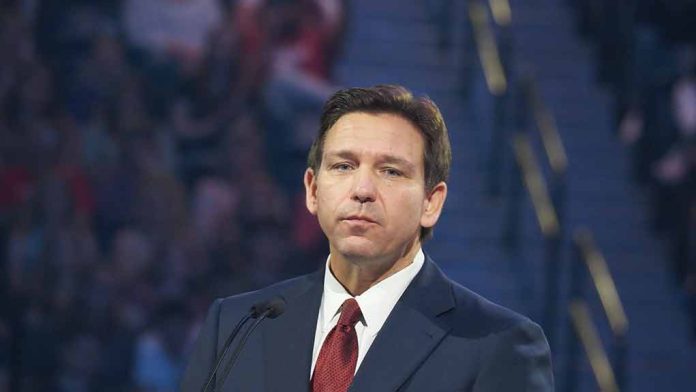 (StraightNews.org) – Republican Presidential candidate Ron DeSantis said he will use deadly force against drug traffickers who breach the US southern border. In his first major policy announcement, DeSantis said he would finish the wall on the border started by Donald Trump.
The Governor of Florida, who is in second place in the polls behind former President Trump, added, "If somebody were breaking into your house to do something bad, you would respond with force. Yet why don't we do that at the southern border?" He threatened that anyone who brings drugs to America, including lethal Fentanyl, will be "stone-cold dead."
Speaking in Eagle Pass, Texas, DeSantis also stated further immigration policy, including ending the automatic right to citizenship for children born to illegal migrants and designating drug cartels as terrorist organizations.
Taking a swipe at the GOP poll leader, DeSantis said there were no more excuses and implied that Trump is another President who failed to tackle immigration sufficiently.
Democrats dismissed Mr. DeSantis' plans as echoes of the last Republican to inhabit the White House and said they are equally "cruel and callous." Ammar Moussa, a spokesperson for the Democratic National Committee, called the Floridian's policies "gimmicks."
Despite his tough rhetoric on immigration and drug smuggling, two issues of growing concern to Republicans and conservatives, polls show support for DeSantis is not increasing. His backers hoped and predicted a bounce for the Governor when he formally announced his entry to the White House race, but this failed to materialize.
An NBC poll taken on the day DeSantis announced his new policies shows that his support is stagnant at 22%. Donald Trump polled 51% in the same survey. All other candidates remain below 10%. Chris Christie, who openly stated he wants to end Donald Trump's career, is on 5%, Nikki Haley is at 4%, and Mike Pence, Trump's 2016 running mate and Vice President, is polling at 7%.
The former President's support has risen from 46% in May.
Copyright 2023, StraightNews.org