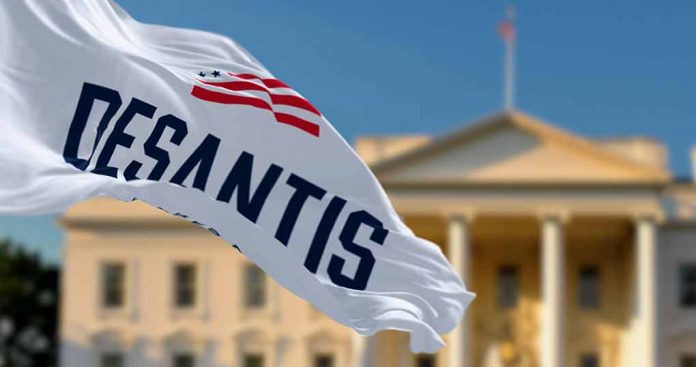 (StraightNews.org) – Presidential candidate Ron DeSantis said he will cut the "footprint" of the federal government in half if he is elected to the White House in 2024. Speaking to CNBC's Brian Sullivan, the Floridian Governor said his goal was to cut back the influence of the government and allow the economy to function. The reduction will be achieved through layoffs, transferring staff out of Washington, DC, and post-retirement attrition.
DeSantis furthermore suggested that he would physically move many government departments out of Washington, DC, to counter the "accumulation of power" in the nation's capital. He suggested relocating the Department of Commerce, the Internal Revenue Service, the Department of Energy, and the Department of Education.
The new policy proposal comes as DeSantis' campaign shows unhealthy signs. In early August, his biggest donor threatened to pull the plug if he couldn't secure financial support elsewhere, and Hugh Culverhouse, who donated $350,000 recently, said he wouldn't donate more unless DeSantis changes his message and focuses less on culture wars, and more on world affairs and the military.
In another blow, former Florida GOP chairman Joe Gruters told the Washington Post that DeSantis' personality is off-putting and people don't like him when they meet him. "The more he's out there, the more his numbers go down. It's not a good long-term scenario for him. I fully expected the downfall of his campaign a long time ago," he said.
Specific criticisms of DeSantis include that he is aloof around voters and has little time for other people's opinions. Rep. Byron Donalds, who had supported DeSantis but has since switched to Trump, said, "In presidential politics, you have to be able to engage and connect with people. It's through TV, it's through interviews, it's charisma," said Byron, before adding that he never felt DeSantis had this particular quality.
The latest polls from August show Trump's lead growing. A Premise survey from August 2 – 7 placed the former President on 65%, with DeSantis on 26%.
Copyright 2023, StraightNews.org