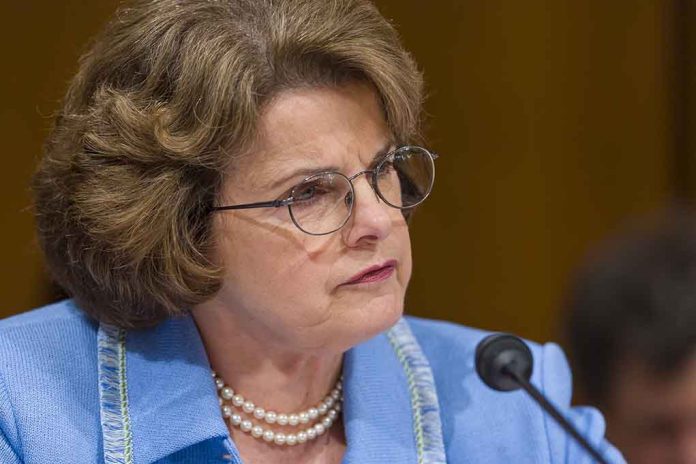 (StraightNews.org) — California Senator Dianne Feinstein returned to Congress in May, but concerns about her health remain. The senator suffers from various conditions and was hospitalized in March following a diagnosis of shingles. She was absent from the Senate for two months, causing a deadlock on the Judiciary Committee where Democrats have a slim majority.
Fellow Democrats called for her resignation because the committee could not proceed with necessary judicial appointments. New York Rep. Alexandria Ocasio-Cortez asked Senator Feinstein to step down because her absence posed a risk to a judiciary that she sees as increasingly conservative. Immediately upon her return, Democrats appointed six Biden nominees to the judicial benches.
Feinstein was greeted on Capitol Hill on May 10th by Senate Majority Leader Chuck Schumer, but witnesses say she looked confused and unsure where she was. She was taken from her car by wheelchair and asked, "Where am I going?"
The oldest lawmaker in Congress, 89-year-old Feinstein was diagnosed with shingles in February and admitted to a hospital in San Francisco. The virus spread to her face and neck and caused facial paralysis known as Ramsay Hunt syndrome. It also caused the development of encephalitis – an acute brain inflammation. This can lead to memory loss, confusion, and difficulties communicating.
The Senator appeared disorientated when reporters questioned her on her first day back at work. She insisted she had not been absent. When quizzed as to whether this meant she'd been working at home, she repeated, "No, I've been here. I've been voting."
The Congresswoman has already announced that she will not seek re-election in 2024, and the battle for her California seat is underway. Rep. Adam Schiff, Rep. Katie Porter, and Rep. Barbara Lee are the primary contenders. Schiff is considered an early favorite by the media. Porter is a noted progressive who is popular among party rank-and-file. Lee is on the left of the Democrats and the only Member of Congress to vote against military retaliation following 9/11.
Copyright 2023, StraightNews.org