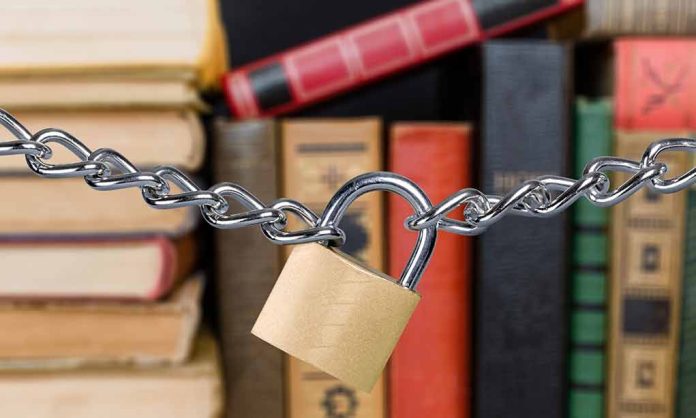 (StraightNews.org) – A school district in Ontario has removed a series of books, including The Diary of Anne Frank, to cater to so-called "equity." The Peel District School Board has decided to pulp all books written before 2008, while others in the province are removing some of the most popular modern-day children's novels, such as the Harry Potter series. One Toronto institution has prohibited The Very Hungry Caterpillar. The censorship is a response to an Ontario Ministry of Education decree that all school books must be "inclusive."
Student Reina Takata said the shelves in her school's library look frighteningly bare. "This year, I came into my school library, and there are rows and rows of empty shelves with absolutely no books," she said.
Education Minister Stephen Lecce says he disagrees with the action taken by some schools and districts. He called it "illogical" and "counterintuitive" to remove books that educate children about the past.
A group known as Libraries not Landfills is speaking out against pulping literature and is particularly concerned about how "inclusivity" and "equity" will be interpreted from school to school. Its founder, Tom Ellard, asked, "Who's the arbiter of what's the right material to go in the library, and who's the arbiter of what's wrong in our libraries? That's unclear."
Meanwhile, some schools are content to include pornography in their book collections in the name of human rights. Durham District School Board defended its decision to put Maia Kobabe's memoir "Gender Queer" on its shelves, despite its graphic adult content. Its presence only came to parents' attention because a fired teacher exposed it online. He lost his job for questioning the wisdom of putting pornography into schools.
Similarly, trustee Linda Stone was barred from attending board meetings when she questioned the policy of allowing kids to "transition" to another gender without informing parents. City Councillor Niki Lundquist said, "Transphobia has no place in our schools or our school boards."
Copyright 2023, StraightNews.org