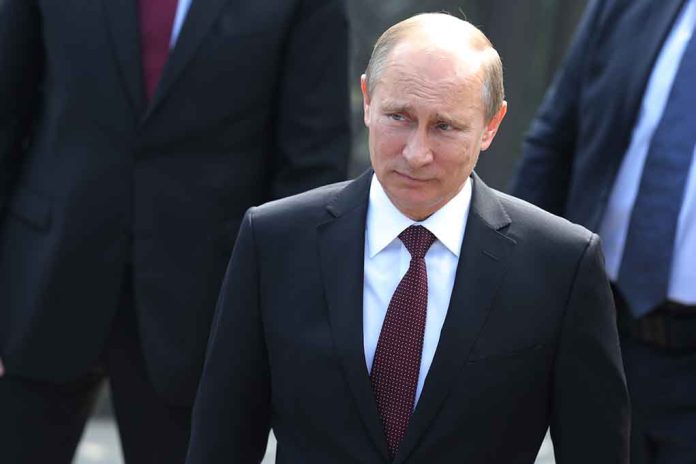 (StraightNews.org) – It's been nearly two months since Russia invaded Ukraine and troops from both sides are still fighting for ground. Russia recently retreated from Kyiv after Ukrainian troops fought them off. Instead of calling off the war, however, Russian President Vladimir Putin is doubling down on his efforts. The result is a cessation of diplomatic talks surrounding both negotiations to end the battle and in talks for humanitarian efforts.
Troops Retreat From Kyiv, Double Down in Donbas
On April 4, the US Defense Department reported approximately two-thirds of Russian troops left the capital city of Kyiv and regrouped in nearby Belarus. It speculated troops would focus efforts on Donbas. Then, on April 19, Ukrainian President Volodymyr Zelenskyy said renewed efforts put these forces near Kharkiv — the country's second-largest city — along with the Dnipropetrovsk and Donbas regions, confirming the Defense Department's assessment.
Referred to as the "second phase" of the war, Zelenskyy said, "a very large part of the entire Russian army is now focused on this offensive." According to CNBC, this might be because the country was ill-prepared for the Ukrainians to fight back and are desperately seeking a win. The news network also reported Putin is no longer using the words "denazification" or "unification," eliciting speculation the mission may have changed once Putin discovered just how much resistance his forces faced.
Humanitarian Corridors Blocked in Mariupol
In addition to doubling down in other strategic areas in Ukraine, Russian troops have reportedly disallowed the negotiated humanitarian corridors in Mariupol. The port city has become a media talking point as Ukraine has reported more than 10,000 civilian deaths in the region, including children. Speaking to the Associated Press, Mariupol Mayor Vadym Boychenko said Russian troops have brought in "mobile crematoriums," and are attempting to cover up the actions by refusing to let humanitarian convoys in the area.
Zelenskyy confirmed the situation in Mariupol is "as severe as possible," and he has not heard anything about an exchange in regards to war prisoner Viktor Medvedchuk, a staunch opponent of Ukraine joining the European Union (EU).
Russia Reportedly Relocates Ukrainian Citizens
Also cause for concern in Mariupol is the reports of citizens in the city being relocated to Russia, often in the harshest areas — the arctic circle and Siberia. Some who have spoken about it call out the brutal treatment they've received from Russian troops.
Zelenskyy has been adamantly clear that Russia and its officials cannot be trusted. He's also insistent Ukraine will not concede any territory in its country, not even in the East. For now, it appears diplomatic talks are completely off the table, but it could change in the future, depending on Russia's success in and around Donbas.
Copyright 2022, StraightNews.org