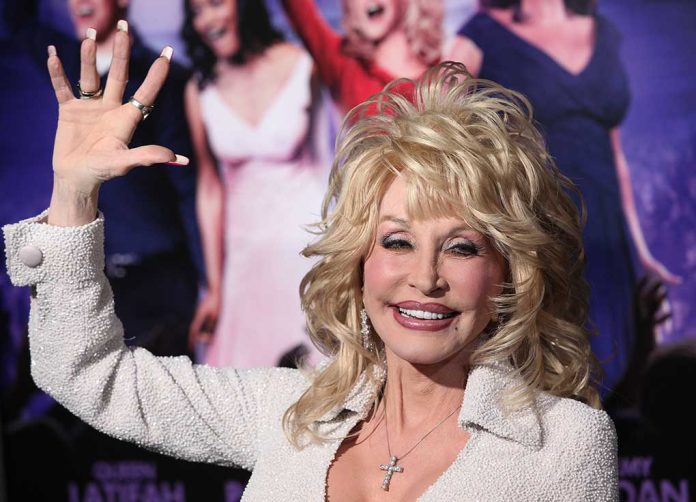 (StraightNews.org) — Country music legend Dolly Parton has added more Guinness World Records to her repertoire. She was awarded three new certificates in Nashville for her long and inspirational career. These include the longest span of number-one hits for a female artist, most studio albums by a female singer, and the most top 10 hit singles.
"I am humbled every time I receive a new Guinness World Records title. I share these three new honors with my fans, who have allowed me to enjoy such a long career," the singer said.
Parton won the award for the longest span of number-one hits running from 1977 to 2020. In 1977, she released "New Harvest…First Gathering". It topped Billboard's Top Country Albums chart. She achieved the same feat 43 years later with "A Holly Dolly Christmas," released in October 2020.
The period of 43 years and 156 days between number-one hits puts her in third place overall, just behind Johnny Cash and Merle Haggard.
The certificate for most studio albums recognizes her incredible 65 releases. All 65 have reached the Top 20 on Billboard's Top Country Albums chart, with eight reaching number one.
Her third award was in recognition of her 10 entries on the US Top Country Albums.
Tennessean Dolly already has seven Guinness World Record titles to her name. These include most No. 1 hits on the US Hot Country Songs chart by a female artist and most decades on the US Hot Country Songs chart for a female artist.
Parton rose to fame in the 1960s. She was born into a family of 12 in a one-room cabin in Tennessee in 1946. She described her family as "dirt poor" and credits her musical gifts to her mother. Her illiterate father made the family's living as a sharecropper and later with a small tobacco farm.
Dolly has won 11 Grammy awards and has been nominated for a best actress Golden Globe. She has sold more than 100 million albums worldwide.
Copyright 2023, StraightNews.org