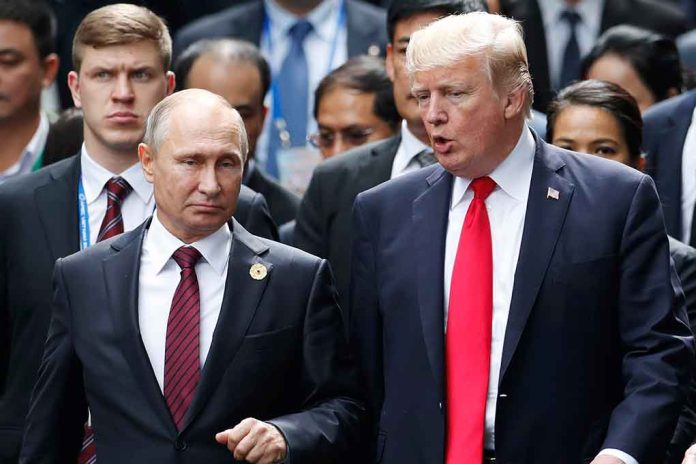 (StraightNews.org) – Ever since Russia invaded Ukraine on February 24, the White House has had its hands full dealing with the fallout. It's issued numerous sanctions against Russian President Vladimir Putin, several oligarchs and companies tied to the Kremlin. However, many people believe it's not enough. In fact, former President Donald Trump had some words to say about both the Biden Administration and how he'd handle the Ukraine-Russia war if he were in office.
On Monday, March 21, Trump appeared on "Fox Business" to talk about Russia's continuing aggression toward Ukraine. He was adamant the response was far from what he'd do.
Addressing the Nuclear Threat
During his time in office, Trump says Putin regularly dropped the "n" word — nuclear — during their conversations, but was hopeful the Russian president would never use them. However, he believes letting Putin and his foreign ministers simply get away with the thinly-veiled threats is the wrong tactic. In fact, Kremlin spokesman Dmitry Peskov reiterated this week Russia would not hesitate to use nuclear weapons if its existence was threatened.
Trump's suggestion is for the White House to nip the threat in the bud by issuing one of its own. "If you mention that word [nuclear] one more time, we're gonna send [nuclear submarines and planes] over," to keep a close eye on the coast, believing these threats would put Putin back in line and avoid the continuing tragedy taking place inside Ukraine's borders.
Trump's Take
While Trump initially drew criticism from both sides of the aisle for calling Putin a genius, he has not shown additional support for the Russian president. In fact, he's spoken out about the situation, growing more frustrated with what he perceives as a weak White House administration. Last month, while addressing CPAC attendees Trump said, "Putin is playing Biden like a drum, and it's not a pretty thing to watch."
The former president says Biden needs to put an end to the conflict, before it leads to WWIII. He maintains had he remained in office, this conflict would not have happened in the first place.
NEW!

President Donald J. Trump:

"If I were in Office, this deadly Ukraine situation would never have happened!" pic.twitter.com/YHBjkCU4XX

— Liz Harrington (@realLizUSA) February 24, 2022
Worse yet, according to Trump, Putin isn't going to stop and without anyone in the White House to talk to him, much like the former president did during his term in office, there are no open lines of communication.
What do you think about Trump's statements?
Copyright 2022, StraightNews.org