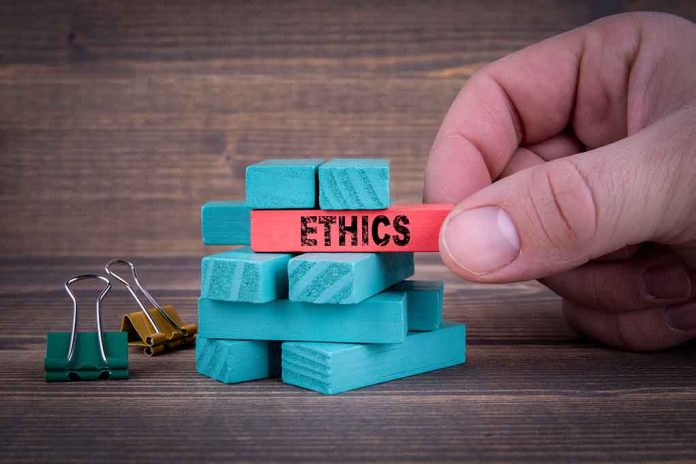 (StraightNews.org) — A Political Action Committee (PAC) allied with Donald Trump has filed an ethics complaint against Florida Governor Ron DeSantis. Make America Great Again Inc. lodged the grievance with the Florida Commission of Ethics accusing the Governor of running a "shadow presidential campaign." DeSantis has been traveling around the country promoting his book The Courage to be Free, but the complaint alleges that he is in fact running a de facto presidential campaign as well as a personally lucrative tour.
The PAC's 15-page document states that DeSantis' activities "are unlawful because they serve his personal political objectives, are in furtherance of his personal financial gain at the expense of Florida taxpayers, and are intended to influence his official decision to resign from office."
Under Florida law, a politician must resign before running for another position if the two posts would overlap. DeSantis was elected last November for a 4-year term, meaning that if he were to become President of the United States in 2024, there would be an overlap of 2 years. His PAC opponents allege that he is currently testing the water with an undeclared campaign that will help him decide whether to run. If he does, he would have to step down as Governor of the Sunshine State.
A spokeswoman for DeSantis has dismissed the complaint as a political stunt by Trump supporters concerned about the Governor's popularity.
The former President has fiercely attacked Mr. DeSantis in recent weeks and some in the GOP have said they find the situation distasteful and damaging to the party. Sen. Lisa Murkowski (R-Alaska), said, "Why anyone feels it's necessary as part of a campaign to be nasty and personal is beyond me. It doesn't have to be. Talk about the issues." Sen. Cynthia Lummis (R-Wyo.) also disapproves of Trump's style, saying she is "wincing" watching events unfold. Senate Republican Whip John Thune added that he wishes Trump would save his criticisms for the Democrats and stop attacking good Republicans like DeSantis.
Copyright 2023, StraightNews.org