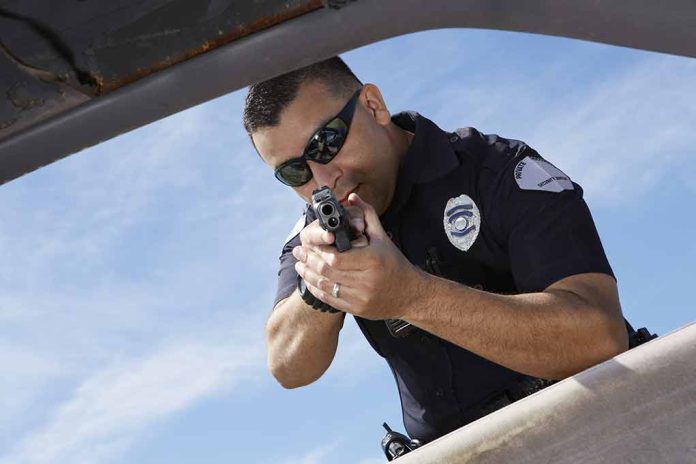 (StraightNews.org) – Residents of a small Ohio community reacted with outrage when a police officer shot and killed a Golden Retriever in front of the dog's horrified family. Bodycam footage shows Elliott Palmer shooting Dixie, who was three years old, as she approached him in Lorain, near Cleveland, on July 9. A petition to have the officer fired rapidly gained more than 30,000 signatures and a Justice for Dixie rally took place outside the headquarters of the Lorain Police Department a day after the incident.
Dixie's owner, Tammie Kerns, said the dog was running playfully when Palmer shot her, adding that he continued to shoot her even while she struggled on the ground. A furious Kerns said, "He should go to jail. He should rot. I don't want him to shoot somebody else. He needs to be off the streets. There were innocent bystanders nearby."
Officer Palmer was placed on leave following the incident and Lorain Police Lt. Jacob Morris offered his condolences to the family. He said an investigation into the incident was underway, while the town's Mayor Jack Bradley said he would wait for the results of that investigation before commenting.
Under the JusticeForDixie hashtag on Twitter, people posted messages of support for the family and outrage at the police officer. One poster said that if Palmer is not fired, the people will take their own action. Another person wrote, "He called the friendly Golden retriever over. She was wagging her tail, expecting to get a pat. Instead, he shot her, when she started crying and tried to run away, he shot her in the back and the stomach. He's a Sociopath."
Several local residents, as well as online commentators, said they are concerned about a police officer capable of shooting to death an animal with a wagging tail, and wonder what else that officer may be capable of. Others said they usually supported the police but could not do so on this occasion and believed Palmer should lose his job.
Copyright 2023, StraightNews.org