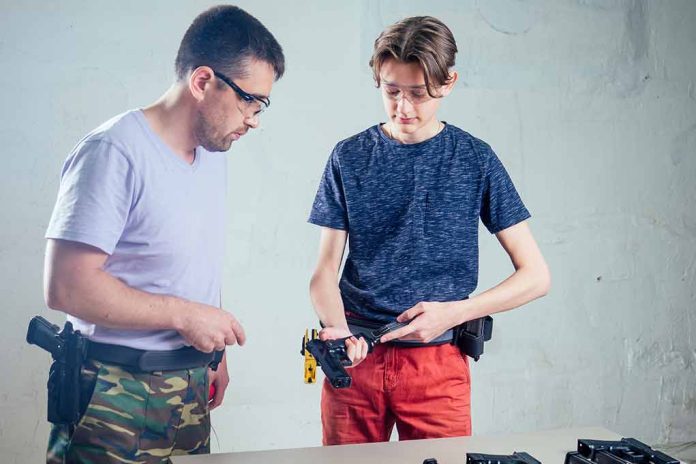 (StraightNews.org) – A father and son are both facing criminal charges in New Mexico following the shooting death of a 13-year-old girl. New Mexico State Police say a 14-year-old male from Questa was listening to music with four other minors at a residence in the town when he took a pistol and fatally shot the young girl.
Following the shooting, the boy allegedly dragged the girl's body outside. His father, William Brown, later returned and both refused to come out of the house at the demand of law enforcement officers.
Investigations continue, and the victim's name has not been made public, but William Brown has been charged with negligently making a firearm accessible to a minor resulting in death. His son, held in a juvenile facility, is charged with first-degree murder, tampering with evidence, and assaulting police officers. Police have not released details regarding the assault charge.
Twenty-seven US states have laws in place that allow the prosecution of parents if their children can access firearms in the home. The details of these vary from state to state. For example, parents or guardians in Texas, Florida, and California can be charged with crimes if they keep guns "where minors could or do gain access." In Utah, parents are only criminally liable if they know their child has a gun and they take no action to take it from them.
According to the Giffords Law Center to Prevent Gun Violence, 4.6 million kids in America live in a home with an unlocked and loaded firearm. The organization also claims that most parents don't realize their kids can access guns. One study found that 70% of parents believed their children could not locate their guns, but over a third of those were able to locate the weapons within minutes.
Further research reveals that between 70% and 90% of unintentional shootings among children, child suicide, and school shootings are carried out using firearms acquired from parents or guardians inside the home.
Copyright 2023, StraightNews.org