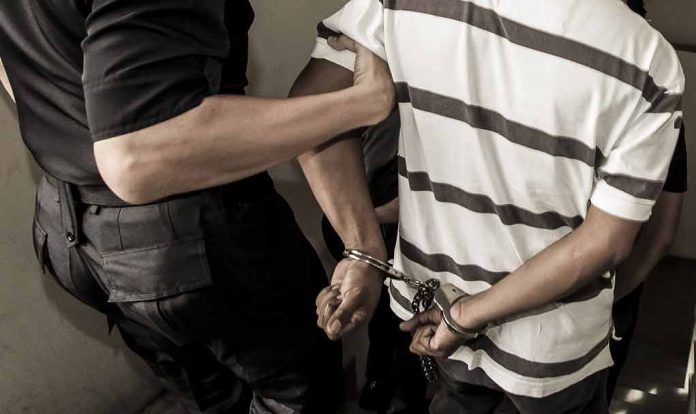 (StraightNews.org) – Police officers in Kenosha, Wisconsin, were placed under investigation following a father's forceful arrest while he was holding his young baby. Witnesses to a road accident told officers that two African American men and one woman fled the scene and entered an Applebee's restaurant. Police attended the restaurant and asked employees and diners if they had seen anyone matching the description they provided but left without any information.
Moments later, a staff member spotted someone they believed to be the suspect and called the police. Officers returned and identified an African American couple with a baby who matched the description of their suspects. The couple were asked about their car but refused to answer any questions. The police complaint states that the male suspect, identified as Jermelle English, then got up to leave the restaurant.
Cell phone video published online shows police trying to detain English with a small child in his arms. He eventually handed the child to Jennifer Harris before officers quickly wrestled him to the ground, and video shows an officer hitting Mr. English several times. It was established afterward that English was not the correct suspect, but in fact, the individuals sought by police were hiding in the restroom of the Applebee outlet while the fracas was unfolding.
The suspects who allegedly fled the accident scene were subsequently detained, but Mr. English also faces charges for refusing to cooperate with officers when questioned.
Since the incident occurred in July, Applebee has terminated the employment of Jennifer Harris. She worked with the company for over a decade and believes she was unjustly fired.
"I put a lot of heart and passion into that job and that company. I feel like I've been done wrong instead of getting support from my employer for handling the situation," she said. Her attorney William Sulton said he will pursue any legal avenues available if the restaurant does not restore Ms. Harris's employment.
Copyright 2023, StraightNews.org