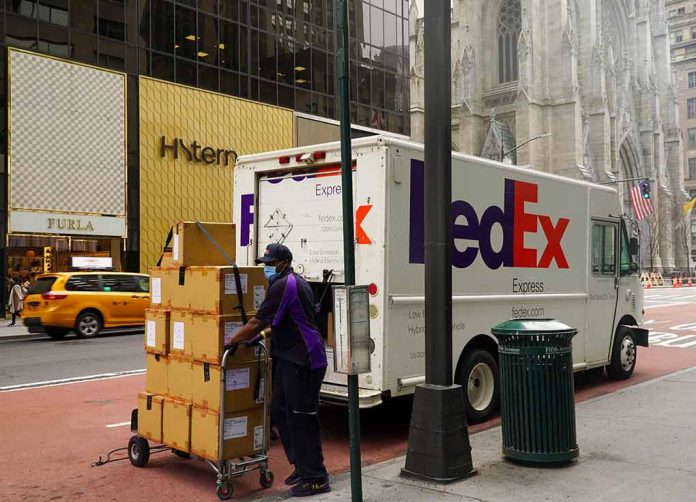 (StraightNews.org) – Delivery giant FedEx fired a black employee at the center of an apparent hate crime criminal case. D'Monterrio Gibson said he was shot at by two white men while delivering packages in Brookhaven, Mississippi. Gibson alleges that father and son Brandon and Gregory Case followed him for 15 minutes before opening fire from their pick-up truck. The pair later turned themselves in to law enforcement and were charged with attempted murder, conspiracy, and aggravated assault. Gibson's lawyers argued for the addition of hate crime charges.
However, the trial later broke down, and the judge declared a mistrial thanks to errors by police and a "lack of professionalism." A Lincoln County grand jury later determined that mistakes and poor investigating by Brookhaven police were not uncommon. The jury said officers tend toward victim blaming, don't use technology to their advantage, are complacent, and are guilty of arresting suspects without probable cause.
The racially charged case was compared to that of Ahmaud Arbery, who was shot dead in a racist attack in Georgia last year. Father and son Travis and Gregory McMichael and their neighbor William Bryan were convicted of murder despite their insistence that Arbery had committed crimes in their town and his death resulted from an accident during a scuffle. Gibson, however, could not prove any racist intent during a civil hearing on the Mississippi incident.
The FedEx driver filed a civil suit against his employer, but the judge dismissed the case, saying no racism was blatant.
Gibson now finds himself out of a job, and a FedEx spokesperson said his firing is not related to the criminal or civil lawsuits but to Gibson's refusal to accept a new job offer. Attorney Carlos Moore said his client refused to take a part-time, non-courier role that the company offered in mid-July because it would pay a third of his usual salary. His employment was terminated on July 31, and Mr. Gibson was informed of this by email.
Copyright 2023, StraightNews.org