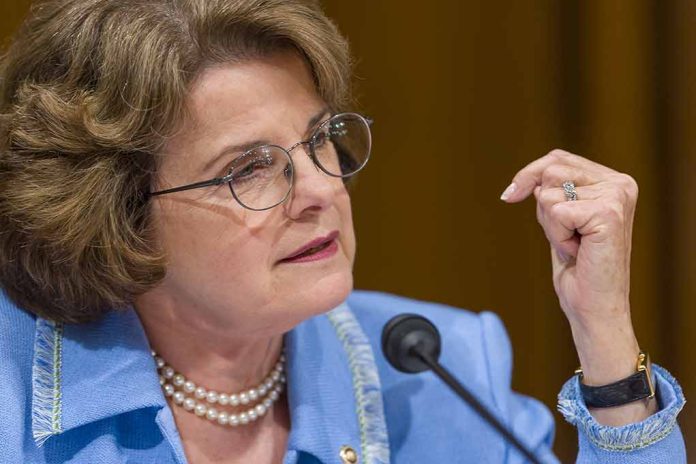 (StraightNews.org) – Senator Dianne Feinstein has relinquished power of attorney to her daughter. The 90-year-old Democrat, the oldest Member of Congress, continues to serve in the US Senate despite calls for her resignation from members of her own party. Feinstein gave her daughter Katherine Feinstein power of attorney as legal battles surrounding her late husband's estate intensified. Katherine was born during a previous marriage and is the Congresswoman's only child.
In a lawsuit filed last month by Katherine Feinstein, the Senator said she had so far been unable to access any of her husband's estate and needed funds to pay the medical bills she ran up during a bout of shingles earlier in the year. The illness caused her absence from Congress for three months and prompted fellow Democrats to ask her to step down.
Two business associates of her late husband, Richard Blum, were appointed to administer his estate. Michael Klein and Marc Scholvinck, via their attorney, said the estate has "never denied any disbursement to Senator Feinstein, let alone for medical expenses." Lawyer Steven Braccini also claimed in July that he had received no evidence that Katherine Feinstein has legitimate power of attorney, and he hopes she is not "engaging in some kind of misguided attempt to gain control."
In a separate battle, the Senator's daughter is seeking to sell one of her mother's properties, but Blum's daughters are blocking the sale. A spokesman for the Congresswoman said these are private matters and her office will not comment.
Feinstein has announced that she will not seek re-election in 2024, but her continued presence causes concern and keeps the spotlight on the age issue on Capitol Hill. Recently, aides were caught on microphone prompting the Senator to vote during a meeting of the Senate Appropriations Committee. When it was her turn to cast her ballot, she began reading from notes and had to be reminded three times to say "Aye" as the debate had already ended.
Copyright 2023, StraightNews.org