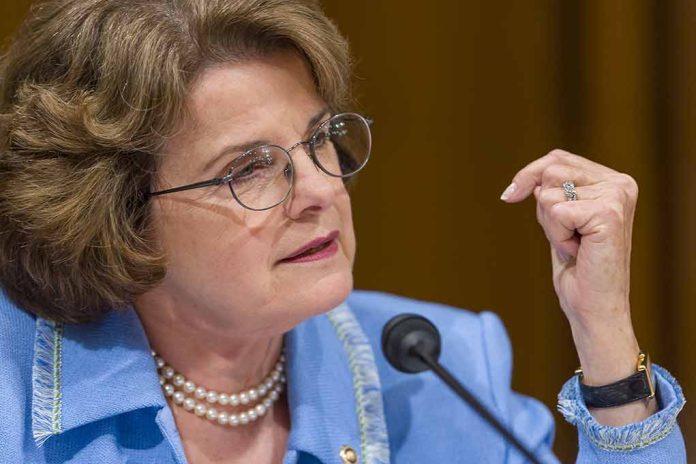 (StraightNews.org) – The finances of Senator Dianne Feinstein, the older Member of Congress on Capitol Hill, are under the spotlight as the veteran politician's California home is advertised for sale. The house, located at Stinson Beach, is on the market for $8.5 million and is described by realtors as "one of the most exclusive homes in Marin County."
The "3,565-square-foot home has four bedrooms, 3.5 baths, a sitting room, sunroom, office and great room with 20-foot ceilings and glass doors that open to a 70-foot exterior deck," according to the listing.
The legal status of the sale may be questionable, however, as the Senator's assets are subject to an ongoing dispute. A San Francisco Superior Court judge recently ordered the feuding parties into mediation after Senator Feinstein's daughter Katherine Feinstein filed three lawsuits against her late stepfather's estate saying they refused to provide assets to the Senator. In August, Katherine Feinstein was granted power of attorney over her mother's affairs.
The Senator's daughter also argues that the trustees of the late Richard Blum's estate were not properly appointed following his death. Attorneys for both parties have agreed to enter mediation.
Feinstein has served in the Senate since 1992 and has been subject to much discussion this year. She was absent for months in the early months of the year due to illness, and when she returned, she appeared confused and disorientated. During a Senate debate, a colleague was forced to remind her to vote, and she caused bewilderment when she told a reporter that her daughter had "no permission to do anything" before calling him back and confirming that she had indeed given her power of attorney.
California Governor Gavin Newsom said he would appoint a caretaker Senator if Feinstein decided to retire. Some Democrats have asked Feinstein to step aside, even though she has confirmed she will not stand for re-election next year. Contenders hoping to replace her include Reps. Adam Schiff, Barbara Lee, and Katie Porter.
Copyright 2023, StraightNews.org