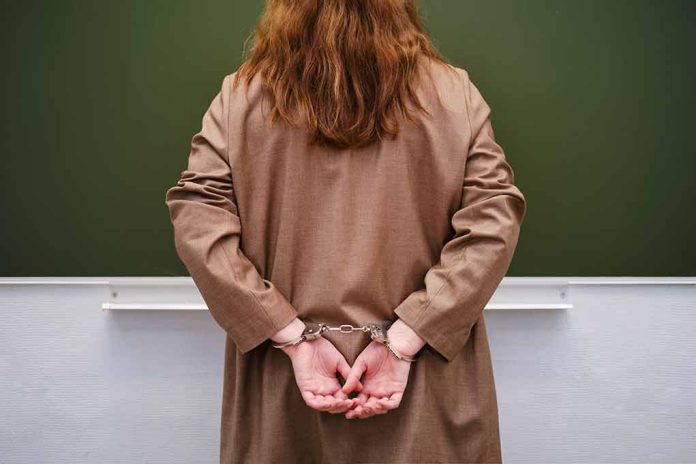 (StraightNews.org) – Police charged a female New York City teacher with raping a male student on August 23. Melissa Rockensies faces charges of abusing a 14-year-old pupil under her care. She allegedly took the boy to a parking lot to abuse him "at least once a week" since October 2022. Prosecutors said they have collated a series of photographs of the abuse that they found on the teacher's phone. The teenager is no longer a student at the unnamed school.
The case came to the authorities' attention when the angry victim turned up at the school with his friends and tried to enter the building but was turned away. Rockensies then approached the principal, saying the pupil threatened to shoot her and her students unless she paid him $5,000.
Jenna Lyle, a spokesperson for the Department of Education, confirmed the truth of the case and that Ms. Rockensies had been fired. "This employee has been reassigned away from the school and students pending the outcome of the arrest, and if convicted, we will pursue termination. Nothing is more important than the safety and well-being of our students," she said.
The teacher was previously a dean of leadership and student support and backed a campaign to teach young people about consent. In a post on her Facebook page, Rockensies endorsed kids' right to refuse hugs or other forms of intimate contact.
The teacher's husband is standing by his spouse and has insisted that she is a good mother and wife. "My wife is innocent. She's the mother of three kids. She loves them very much," he said. "She's been a big part of the community at her school. We all support her. We're saying she's innocent. I won't elaborate any further why," he added.
The teacher has been arrested and is due in court in November. She faces a potential seven-year prison sentence if convicted. Around 7% of American rape cases involve female abuse of males.
Copyright 2023, StraightNews.org