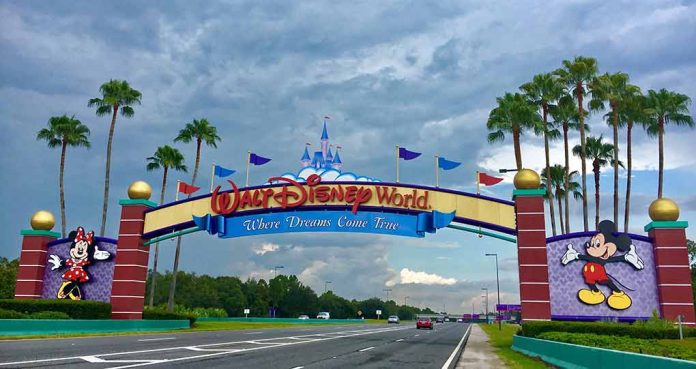 (StraightNews.org) — A fight broke out at Walt Disney World on May 15 after a family refused to move for a photo op, New York Post reported. A viral video captures the moment when theme park goers broke into an all-out brawl at the Disney World location in Orlando, Florida on Monday, May 15. The fight ensued after one family asked another to move from out of the front of the theme park's 100th-anniversary sign, the NewYork Post reported.
The fight became viral quickly making local and national headlines. Footage of the brawl appeared on Fox 35 Local. The video shows a man being forced to the ground and beaten until the official security on site approaches the fight and disperses the brawlers. Reportedly, the man who was pushed to the ground was having trouble getting up and chose to stay seated on the ground. The Disney World goers were shouting and cursing at each other during the incident until officers responded to the scene to break up the incident.
Following the brawl, two people were banned from Disney World, The Independent UK reported. The Independent explained that the fight occurred at approximately 2:30 pm local time on Monday, May 15, when two families were trying to take a picture in front of Disney World's 100th-anniversary sign at Magic Kingdom, and a member from one of the families asked a member of the other family to "move out of the frame." The Orange County, Florida sheriff's department had explained that the "fight ensued from there," The Independent quoted. Reportedly no one was arrested at the scene.
Adding even further detail in follow-up to the Orange County Sheriff's Department's report, NBC News reported that, when the member from one family asked members of the other, larger family to move, a member of the larger family punched the "victim family" in the face.
The unidentified assault victim did not wish to press charges, The Independent reported.
One person was treated for injuries directly at the scene following the attack, The Independent reported. The two people who were banned from the park were reportedly issued a trespassing warning, which enforces that they can be arrested if they are seen at Magic Kingdom ever again.
Copyright 2023, StraightNews.org