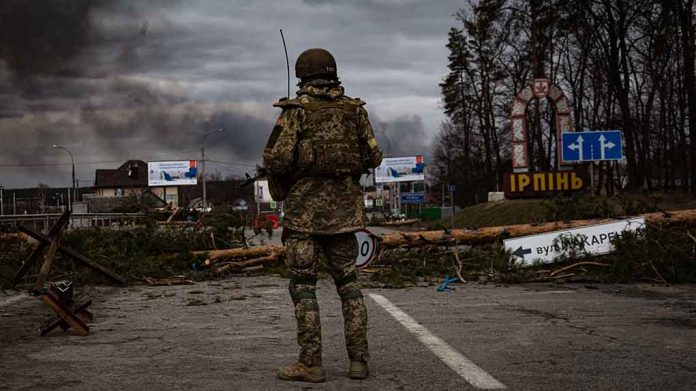 First Ukrainian War Crime Trial Sees LIFE Sentence
(StraightNews.org) – Since Russian troops first stepped foot in Ukraine in February, countless atrocities have occurred. Reports of innocent civilians dying at the hands of Russian soldiers have peppered the internet, and now, a Ukrainian court held its first trial to investigate war crimes by a Russian tank commander.
On Monday, May 23, a Ukrainian judge sentenced Vadim Shishimarin to life in prison after he pleaded guilty to shooting 62-year-old Oleksandr Shelipov. Shishimarin killed the Ukrainian civilian on February 28 near the village of Chupakhivka, saying a higher-ranking officer ordered him to. During the trial, the Russian commander asked Shelipov's widow for forgiveness.
The Kyiv Independent shared the groundbreaking news:
⚡️Russian soldier given life sentence for killing civilian.

A Ukrainian court sentenced Vadim Shishimarin, who had pled guilty to killing a 62-year old man in Ukraine's Sumy Oblast.

— The Kyiv Independent (@KyivIndependent) May 23, 2022
While Shishimarin may face life in prison in Ukraine, there's always a possibility of a prisoner swap between the warring nations. However, that would mean the two governments would have to come to an agreement in order to do so, which seems unlikely at this time.
But, all in all, as Ukrainians enter the fourth month of war, this first trial for Russian war crimes likely brought a small amount of justice to a country that has been turned upside down. Hopefully, nations will continue to bring justice against those who commit the atrocities.
Copyright 2022, StraightNews.org