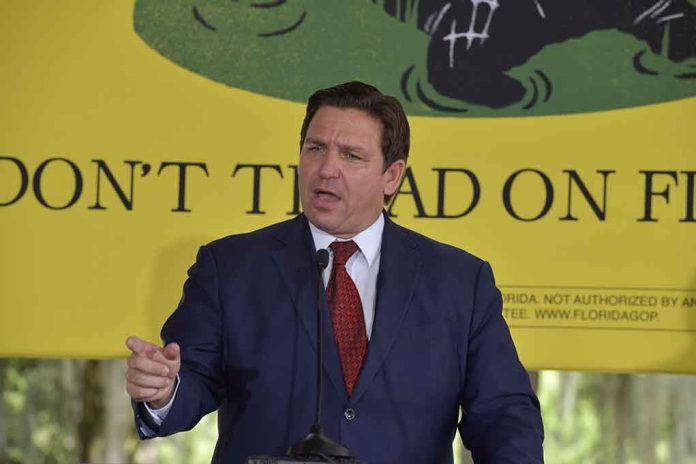 (StraightNews.org) — The leader of the Democrats in Florida has filed an ethics complaint against Republican Governor Ron DeSantis accusing him of unlawfully accepting gifts. Democratic Party Chair Nikki Fried said DeSantis has accepted significant gifts and donations from his political committee which, under state law, cannot spend money on activities unrelated to the political work it is intended to undertake. The allegation of misspending focuses on a three-day retreat at a hotel in Palm Beach where DeSantis met with donors and fellow Republicans. The Friends of Ron DeSantis committee paid $235,000 for the event. Other noted expenses include a payment of $142,000 to a hotel in Miami and a $12,000 payment to a steak restaurant. Expenditure on pro-DeSantis materials, such as cups and t-shirts, was also included.
"While Floridians face some of the highest property insurance and mortgage rates in the state's history, DeSantis is hobnobbing with special interest donors and lining his pockets with freebies," Fried said.
It is the second ethics complaint to be filed against the Governor in recent weeks. The first one came from a Republican group of staunch Donald Trump supporters in mid-March. That filing alleged that the Governor was running a shadow Presidential campaign that was unlawful. Florida state law says that if an elected representative wishes to campaign for another office, they must first resign from their current role. The complaint by MAGA Inc. also said DeSantis is using his Governorship to promote himself on the national stage. The group cited DeSantis' book tour in states including Iowa and New Hampshire.
Taryn Fenske, a spokeswoman for DeSantis, has brushed off both complaints as politically motivated and said that the Trump camp clearly fears the challenge posed by Mr. DeSantis. In response to the second filing, she said, "we'll just add this to the list of frivolous & politically motivated attacks." Evan Power, the vice chair of the Florida Republican Party, said that Nikki Fried filing an ethics complaint is like Freddy Kruger setting up a first aid tent.
Copyright 2023, StraightNews.org